Young American watch brand, Jacob & Co breaks the norm with its off-the-beaten-track timepieces that have caught the eye of famous stars like Jay-Z, Lionel Messi, Rihanna, Elton John and Jennifer Lopez. The New York-based watchmaker has been creating innovative, exciting and elaborately crafted timepieces since 2002 when founder Jacob Arabo released the Five Time Zone watch, displaying the time zones for Paris, Tokyo, New York, Los Angeles and local time. The brand followed this up with another huge hit - the Jacob & Co Five Time Zone Diamond watch with a scintillating gem-set design.
Jacob & Co has also experienced success with collections like the Astronomia with its watches that feature a diorama of the solar system, the Opera watches, which play theme songs from famous movies, and the Twin Turbo line, which takes inspiration from classic sports cars. There are several reasons why Jabob & Co is winning the hearts of luxury watch enthusiasts far and wide. The brand perfects each timepiece to the highest horological standards, implementing exceptional calibres and extraordinary complications into its creations. Each watch from Jacob & Co also has a distinct design and is produced in a limited run. This guide to Jacob & Co watches outlines everything you might need to know before you begin your quest for the best watch made by this famous innovator.
A little about Jacob & Co
Despite American roots, you should know that Jacob & Co makes Swiss-made wristwatches. They are, however, not like the watches you would expect from a traditional Swiss brand. They are outrageous, high-complication watches that turn heads and promise a visual, physical and audible experience on the wrist. It all started when founder, Jacob Arabo moved from the USSR to New York with his family for a better life and began designing watches for several luxury brands before creating his own, known as Jacob & Co. His use of large gemstones and diamonds has attracted the attention of those with lavish lifestyles. From jewellery watches to its first successful watch – the Five Time Zone - Jacob & Co grew and soon moved to Geneva, Switzerland. Catapulting the company further was the Astronomia watch, followed by a series of partnerships with high-profile names like Bugatti and Paramount Pictures. With every novelty released, Jacob & Co evolved and matured, growing in popularity and expertise. That said, the manufacturer also offers several simpler models for everyday wear, enabling it to reach a broader audience with its diverse portfolio.
FAQs
Is Jacob & Co a good brand?
Jacob & Co demonstrates exceptional quality and expertise with its wide range of attention-demanding timepieces that blend extravagance with technique. Having gained prestige through celebrity endorsements, Jacob & Co watches are in demand more than ever, making them great investment pieces.
Why are Jacob & Co watches so expensive?
Jacob & Co watches have high price tags due to the band's selection of premium materials and high-end finishes. The company utilises strategies within its marketing and advertising roots to its advantage, reaching watch connoisseurs far and wide and offering a great aftersales service.

How much do Jacob & Co watches sell for?
If you're only just beginning to research Jacob & Co, its most expensive watches are those such as the Rasputin Tourbillon Baguette and Bugatti Chiron Tourbillon Sapphire. These models can reach staggering prices on the pre-owned market, selling for over $1 million. More affordable options include the Five Time Zone, which can sell for under $5,000 on the second-hand market. The Jacob & Co 18 million dollar watch was the famous Jacob & Co Billionaire. The model is crafted from 18ct white gold with its lugs, bezel and case all fully adorned with emerald-cut diamonds.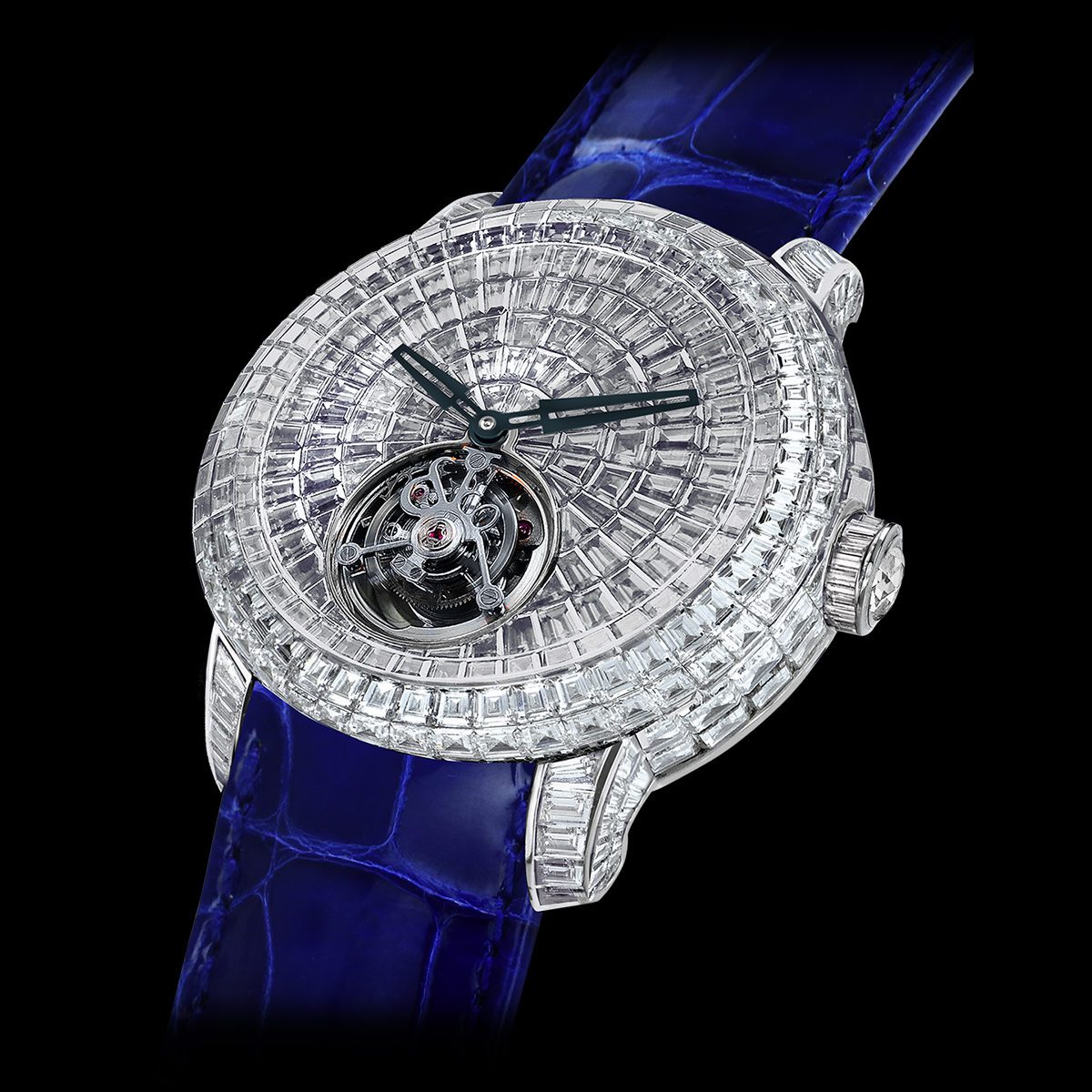 Where can I buy a Jacob & Co watch from?
Whether you're looking for a Jacob & Co black diamond watch like the Cavier Tourbillon or another kind of Jacob & Co limited edition watch, here at Watches World our e-commerce platform is constantly evolving to bring you the most diverse range of timepieces from all the world's most prestigious leading luxury watch brands. Our range includes everything from the most elaborate of Jacob & Co men's watches to the most elegant of Jacob & Co women's watches.
A look at some top Jacob & Co collectables
Astronomia
Standing out for its interesting features like its four-arm in-house-made calibres, the Astronomia watch collection is an entity of its own in Jacob & Co's catalogue. The range is diverse, with iterations such as the Astronomia Casino, the Astronomia Sky and the Astronomia Solar. If you're in the market for a tourbillon watch from Jacob & Co, you can find one in this collection. The Astronomia Tourbillon watch is a fully skeletonised model with a calibre whose first arm holds the tourbillon whilst rotating on three axes. Taking just 60 seconds to complete its full rotation, the tourbillon sits across from an off-centre time display. A differential gear train ensures that whilst the movement rotates, the time display is always facing the correct way for the wearer.
In the Astronomia Sky model, the Earth is placed in the middle of the dial, serving as a day and night indicator. It also features a disc with constellations of the Northern hemisphere and a small seconds feature located on the fourth arm of the calibre. Additionally, the Astronomia Solar watch from Jacob & Co shows the entire solar system in a design that is intricately set with scintillating gemstones to represent the different planets. Similar to the Astronomia Tourbillon, the Astronomia Casino watch is another of the brand's elaborate designs, with a fully functioning roulette wheel and ball that is activated by an 8 o'clock pusher.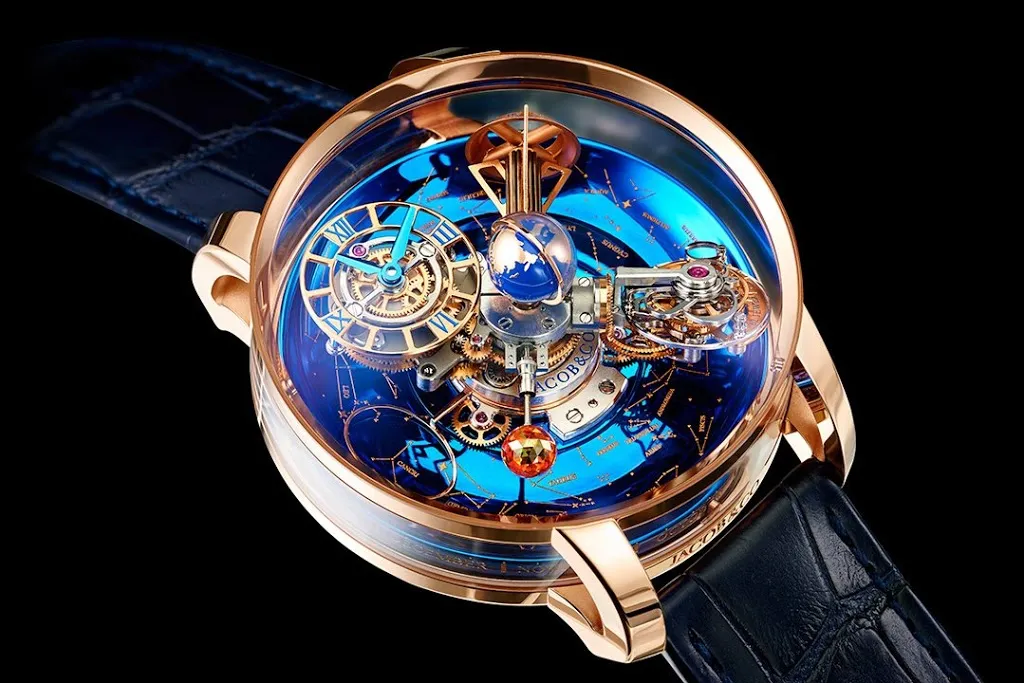 Five Time Zone
The first official Jacob & Co watch was the Five Time Zone watch, which proved itself a smash hit when it unveiled itself with a unique display that could show five time zones. The sub-dials, labelled Tokyo, Paris, Los Angeles and New York can be set alongside local time via their corresponding crowns. Each display also has its own dedicated quartz movement to keep all time zones displaying accurate time. The Five Time Zone watch by Jacob & Co often has a geometric, vibrant design with options offered in stainless steel or 18ct rose gold. If you prefer a more reserved dial, the Palatial Five Time Zone will be more suited to your tastes. There are also alternatives offered in this range, namely the Pirate watches, which feature skull and cross-bone decorations. For an even edgier design, the brand developed the Five Time Zone Ghost with cases in carbon, camouflage or bright colours. These designs set themselves apart with their pentagonal case shapes and rounded edges, yet still work on the same concept, with five independent quartz calibres to keep track of all five separate times. Epic
The Epic watch range by Jacob & Co is intended for sports-goers and globe-trotters. These timepieces are categorised into two sections; the Epic X and the Epic SF24. The latter is a GMT complication that features in a tube-like construction on the round upper edge of the case. On the front of the tube is a piece of sapphire crystal glass that enables a view of a split-flap where a city representing one of the 24 time zones can be referenced. Next to that location, you can view the current hour. Local time appears below the tube on the main dial, alongside a small seconds feature at 9:30. The "X" reference in the Epic X watches from Jacob & Co, however, relates to the shape of the lugs and the bridges of its in-house calibre. Together they form an "X" shape. If you want a simple two-handed watch, you can choose between rose gold or titanium materials, but there is also the Epix X Chronograph to choose from, with a more decidedly sporty essence. These models are slightly larger and feel more masculine, with top models from the range having been spotted on the wrists of Luis Figo and Khabib Nurmagomedov.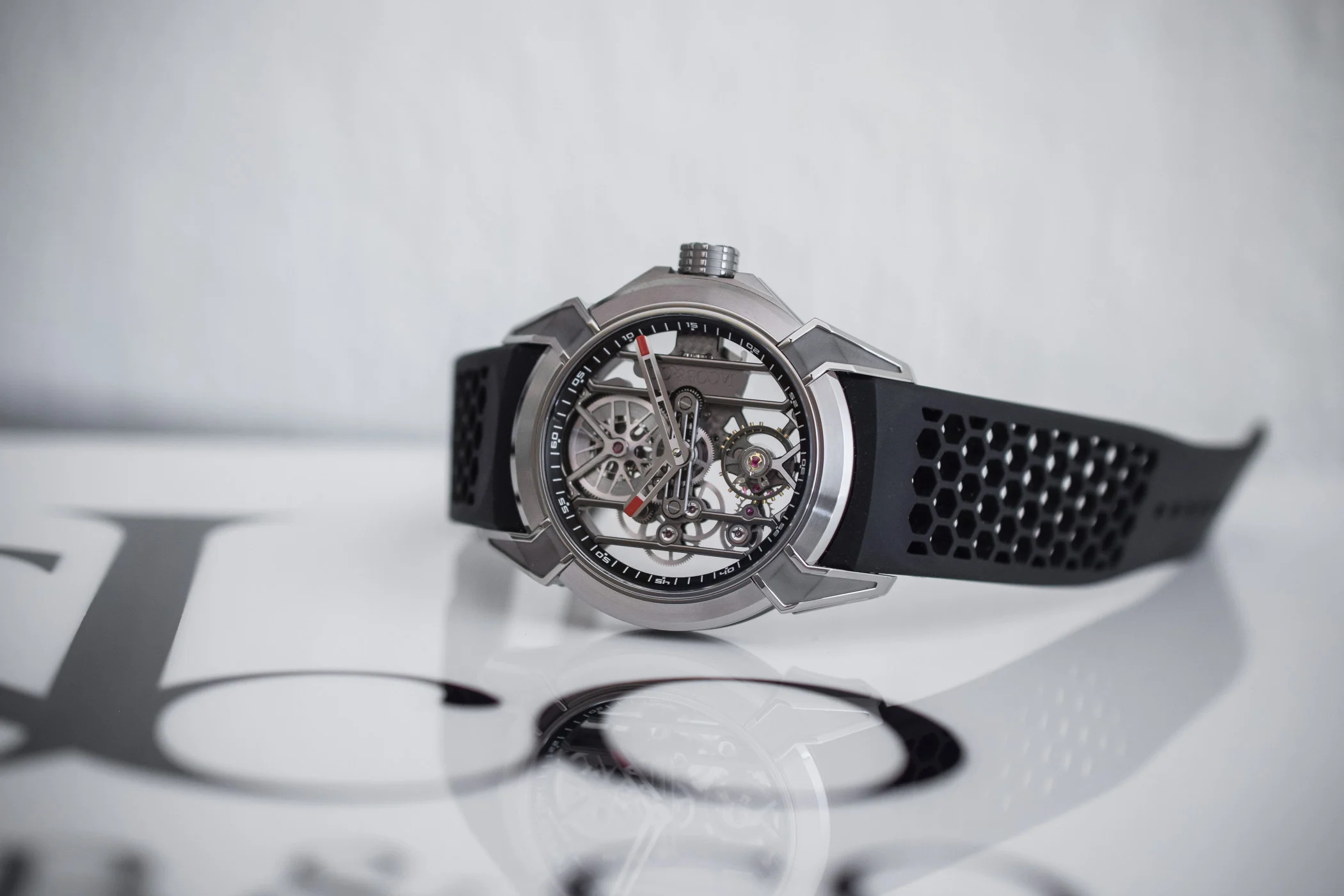 Opera
If you're a fan of "Scarface" or "The Godfather", a Jacob & Co watch from the brand's Opera collection may be for you. These models feature triple axe tourbillons and small music boxes that play the theme tune to the movies in their own respective designs. Sitting at 3 and 9 o'clock, these music box barrels offer a completely unique timekeeping experience and will appeal to enthusiasts who enjoy collecting quirky timepieces that provide a good talking point in any social situation. They also feature figurines in the middle of the dial, as well as the corresponding movie's name, and a violin-shaped crank.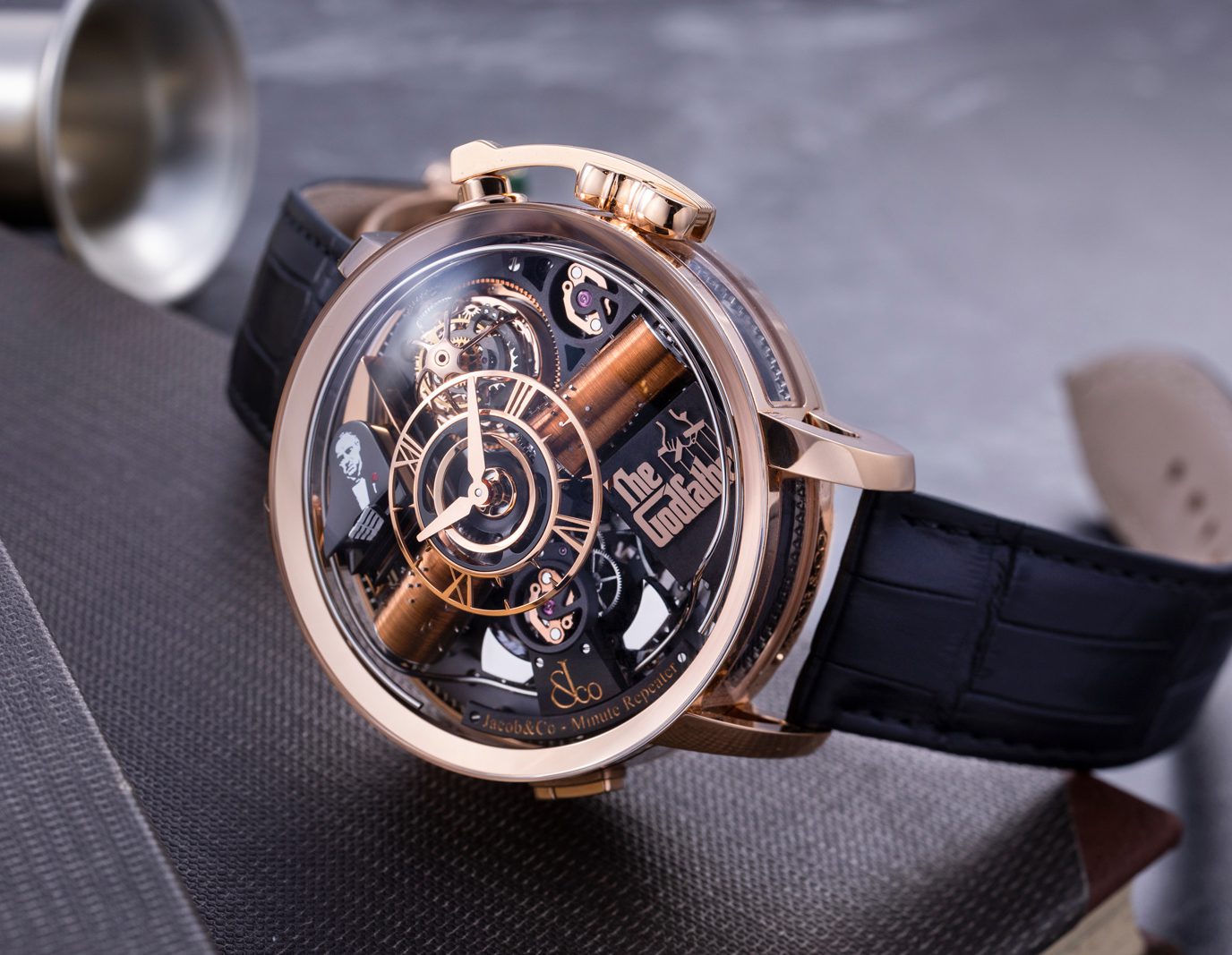 Twin Turbo
Inspired by the hoods of classic cars, Jacob & Co Twin Turbo watches display the time via dashboard-inspired dials, whilst the crown on the side of each case is crafted in the shape of a car door handle. The upper section of the dial of a Twin Turbo watch shows the time, whilst the bottom section of the dial has two triple axe tourbillons on show. Just like the Opera watches, these Twin Turbo watches have audible features that make each timepiece from the collection unique to wear. A chiming system can be activated by a slider on the side of the case. This engages a minute repeater complication. The watch will then relay the time acoustically, breaking down the hours, 10-minute increments and then single minutes.
Within this collection of Jacob & Co watches are the Twin Turbo Furious models that feature monopusher chronographs. Additional tools like a power reserve display are handy, whilst the "Fuel" lettering takes place on the lower section of the dial. The siblings of this Twin Turbo watch are the Twin Turbo Bugatti and Twin Turbo Fast & Furious watches which share many of the same characteristics.
but were designed in partnership with the French car manufacturer and the film franchise. In 2020, Jacob & Co released the Twin Turbo Bugatti Chiron Tourbillon with a design that took the shape of the Chiron's hood and the car's grille. Its moving sapphire engine block, however, is the star of the show in this design. When one of the watch's three crowns is activated, its 16 cylinders begin to move majestically, as seen in a real Bugatti.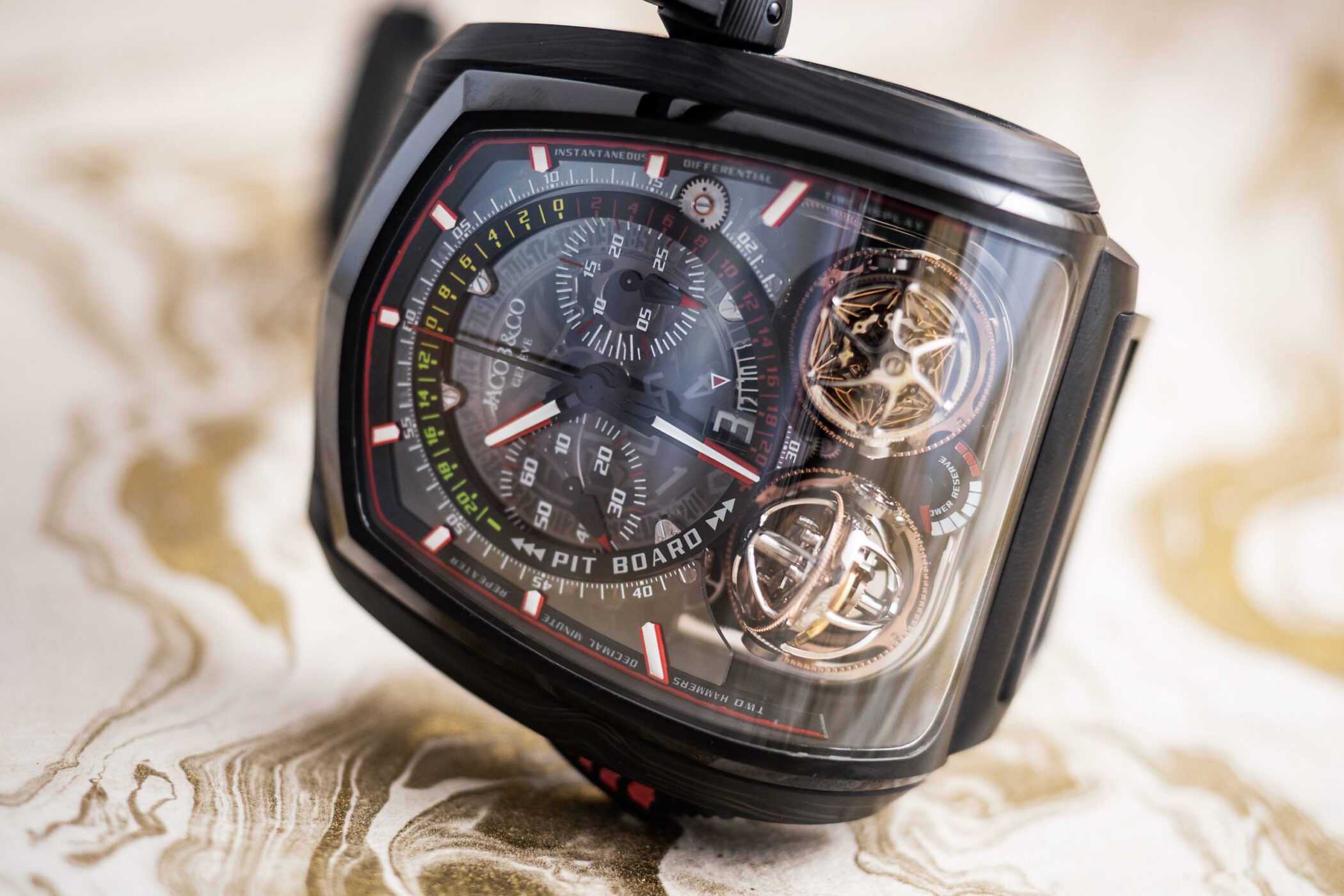 Conclusion
If you like your watches to make a great first impression and you like to create impact when you walk into any room, Jacob & Co is the brand for you. Whichever watch you choose, you're guaranteed to enjoy the exclusivity of wearing a statement piece made by a reputable brand that is renowned for its dynamic and elaborately crafted wristwatches. Each masterpiece shows just as much technique as it does style and charisma. If you're looking to buy a new Jacob & Co watch, you might want to exchange your current model. If so, you're probably asking the question "Where can I sell my Jacob & Co watch?". Our expert team here at Watches World guarantees that you'll find a quality Jacob and Co watch for a fair price. With our range showcasing everything from Jacob & Co classic watches to sports models to diamond-drenched dress watches - you can shop all the best Jacob & Co watches here with us. Get in touch with a member of our team today where we can advise you on how to begin your unique selling or buying process with us.