If you're looking for a futuristic luxury watch, you might want to check out Richard Mille. The unique watchmaker is a specialist in its field of expertise, developing off-the-wall designs that defy rational timekeeping. The brand is a relatively young one (born in 2001) and has remained a constant source of inspiration with its state-of-the-art timepieces that set benchmarks throughout the industry. This guide outlines all you need to know about Richard Mille watches, from the most expensive to the most affordable to the outright wacky and wonderful. Covering everything from the best limited edition Richard Mille watch to the most practical entry-level model - this guide to the best watches manufactured by Richard Mille is sure to equip you with all the key information you need before parting with your hard-earned cash.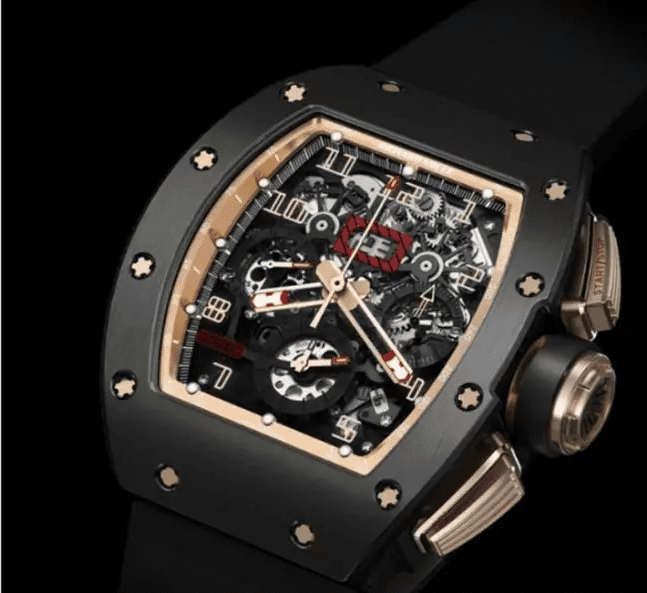 There are many types of Richard Mille watches – each one with an unmistakable style and an unmissable presence when worn on the wrist. The manufacturer is known for its broad use of innovative materials, whether that be a Richard Mille watch for women or a diamond Richard Mille watch for men. The brand uses titanium and ceramic as well as proprietary materials developed in-house such as Cermet, quartz TPT and carbon TPT, but if you're looking for the most affordable option, a stainless steel Richard Mille watch is the best option for you. Surprisingly, purchasing a gold Richard Mille watch can also be a more wallet-friendly option compared to some of the brand's more elaborate case material options.
One of the distinguishable features of Richard Mille as a revered watchmaker is its huge range of openworked designs that show off all the finest elements of the brand's exquisitely crafted movements. A skeleton watch from Richard Mille enables the wearer to form a closer relationship with his watch by admiring the many intricate facets and layers of the movement and how they work harmoniously with one another to achieve expert precision.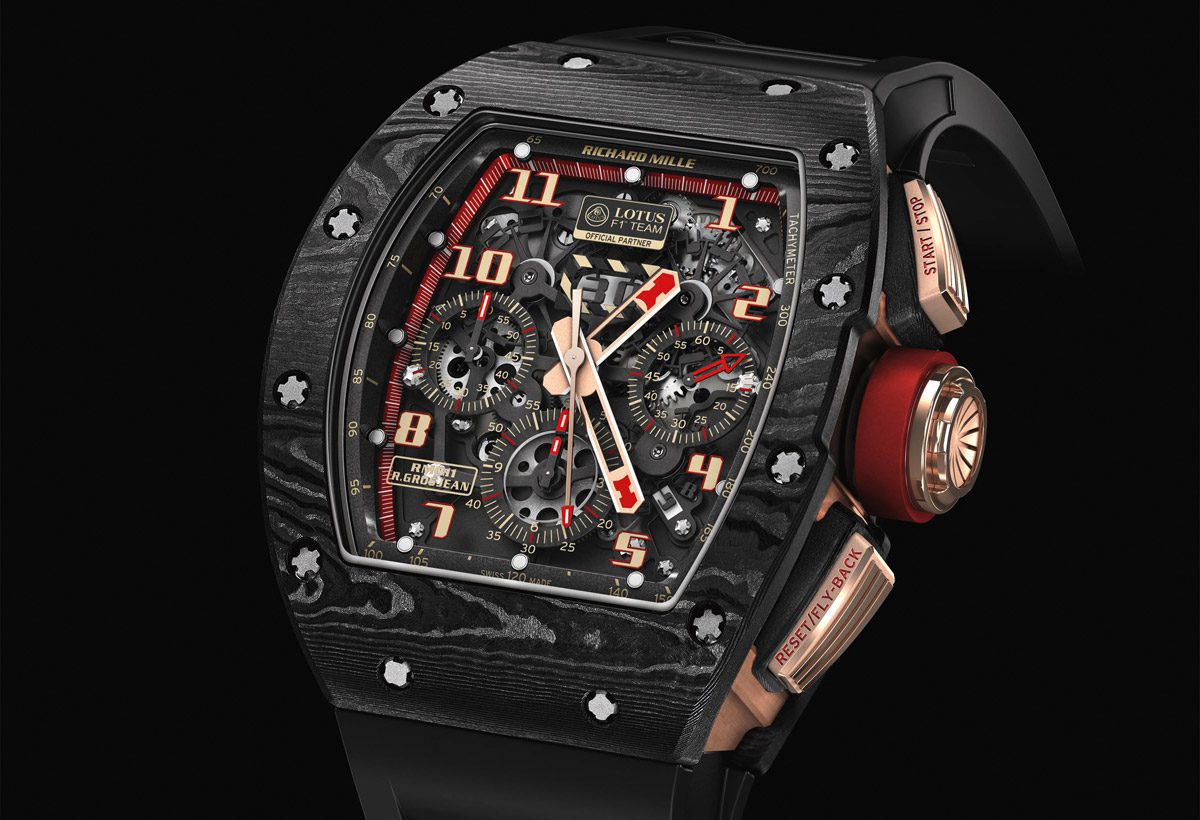 Exploring Richard Mille's diverse range of timekeeping instruments can be a bit of a challenge if you're new to the brand, so to make it a little easier, we'll run through some of the popular models known to collectors and some FAQs so that you can get an idea of which model will appeal most to you.
The RM 11 Felipe Massa
Measuring a broad 50mm in diameter, the RM 11 Felipe Massa was designed to celebrate the brand's longest sporting partner. Uniting the spirit of car racing with timekeeping, the model is available in ceramic, quartz, carbon, rose gold and titanium and comes in several colour options. It gets its power from the RMAC1 Calibre, which offers stopwatch functions that include a countdown timer at 9 o'clock, a 6 o'clock 12-hour counter, and a small running second sub-dial at 3 o'clock. Perfect for racetrack timings, the Richard Mille RM 11 Felipe Massa watch also has a date and day display as well as easily accessible push-pieces on the side of the case for measuring elapsed time efficiently.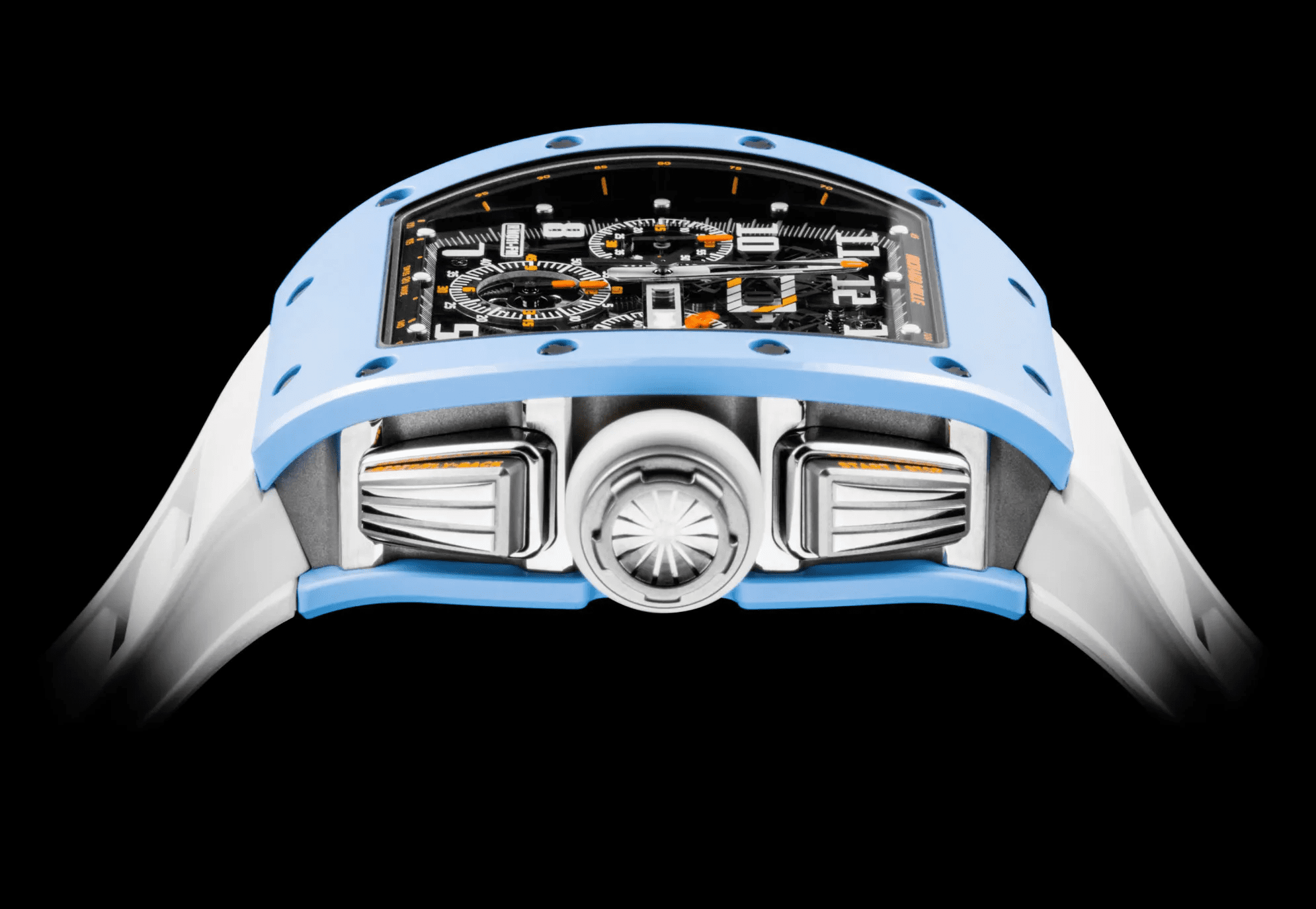 The RM 11-01 Roberto Mancini
Underscoring another relationship with sport, the RM 11-01 Roberto Mancini celebrates the Italian soccer player and coach with a flyback chronograph function, an oversized date display and a tachymeter scale for measuring speed based on distance. The model was later followed by the RM 11-04 Roberto Mancini, which features an intriguing soccer-related display that can time 45-minute halves, extra time and injury time during a game.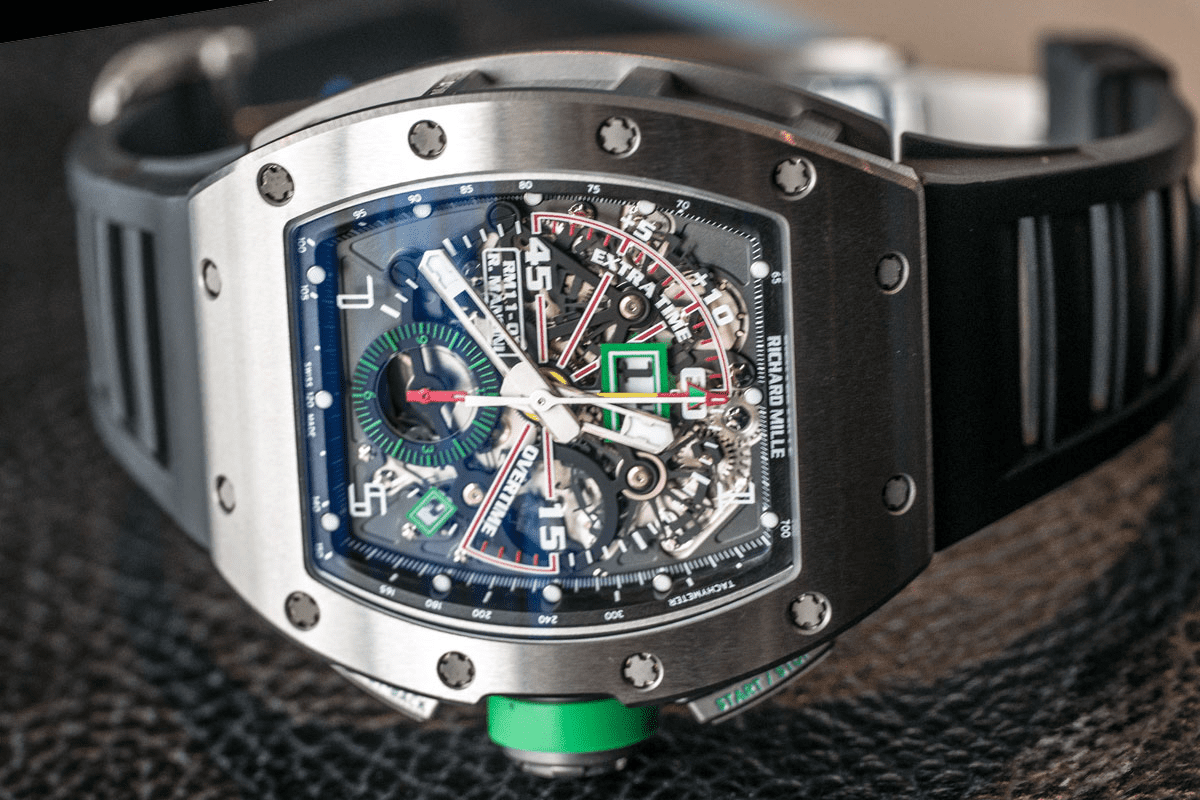 The RM 11-03 McLaren
Bearing several references to the colour and the materials of the cars manufactured by British-born McLaren, there are a staggering total of 600 layers that make up the black carbon case of the RM 11-03 McLaren watch, with an alluring wave pattern achieved by additional layers of orange quartz. The bezel of this TPT-crafted watch is built to evoke a sports car's air intake, whilst its push-pieces are reminiscent of the model 720S's headlights. If you're a fan of motorsport watches, the Richard Mille RM 11-03 should certainly make it onto your wish list.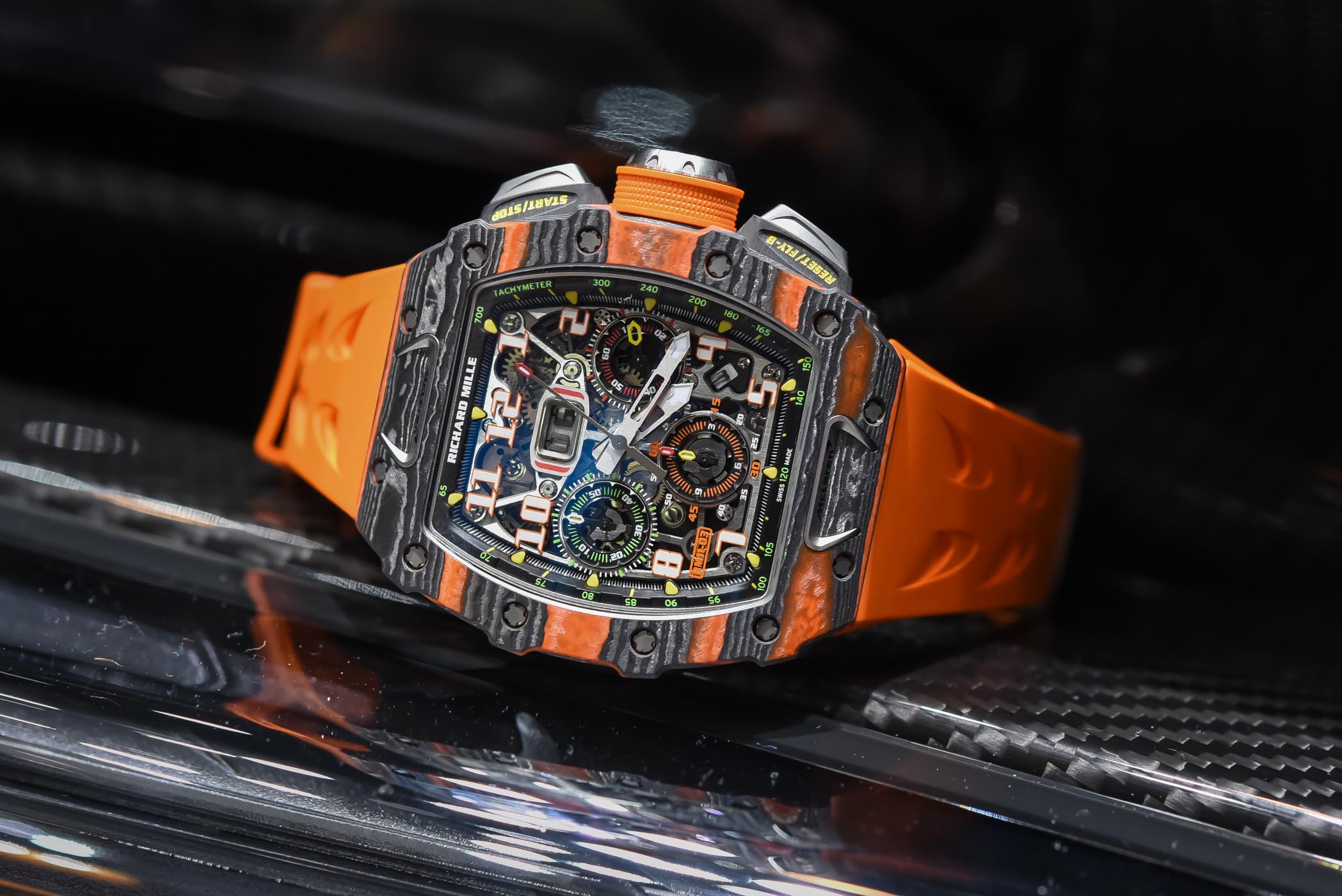 The RM 11-05 GMT From 2020
For those who travel frequently on business or for leisure, the RM 11-05 GMT watch is a great companion. Its barrel-shaped case crafted from a mix of carbon TPT and titanium holds the incredibly complex Calibre RMAC3 at its core. Its baseplates and bridges are forged from the same titanium that is used by the aerodynamics industry and are particularly corrosion-resistant. For tracking home time and local time simultaneously, the use of a bright orange GMT hand makes it easy to keep in touch with loved ones in a different time zone to you.
FAQs
Who makes Richard Mille watches?
Richard Mille watches are created by a manufacturer named Guenat SA. Montres Valgine (GMV). Produced in Switzerland, each timepiece is developed in the Les Breuleux region. Guenat S.A. Montres Valgine has endured over three generations and for over 110 years has been located in the canton of Jura. In 1986 the company was handed down the family line to Dominique Guenat, who in 1999 partnered with Richard to create the brand, Richard Mille.
What is the most expensive Richard Mille watch?
The 056-01 Tourbillon Sapphire is considered the highest priced Richard Mille watch ever. Its iconic case crafted from sapphire fetched $3.4 million and only 5 pieces were ever made – one of which is worn by American Rapper and record producer, Jay-Z. The high price tag associated with the Jay-Z Richard Mille watch is reflected in the brand's use of rare and superior materials, making some of the most indestructible watches on the planet. The company produces all its materials in Lyss Switzerland where it can take a straight 40 days to produce materials like its sapphire. Tourbillon components require a total of 400 hours to produce and, once paired with standards of strict attention to detail, can result in a very expensive but meticulously crafted timepiece that is highly valued and collected amongst luxury watch enthusiasts.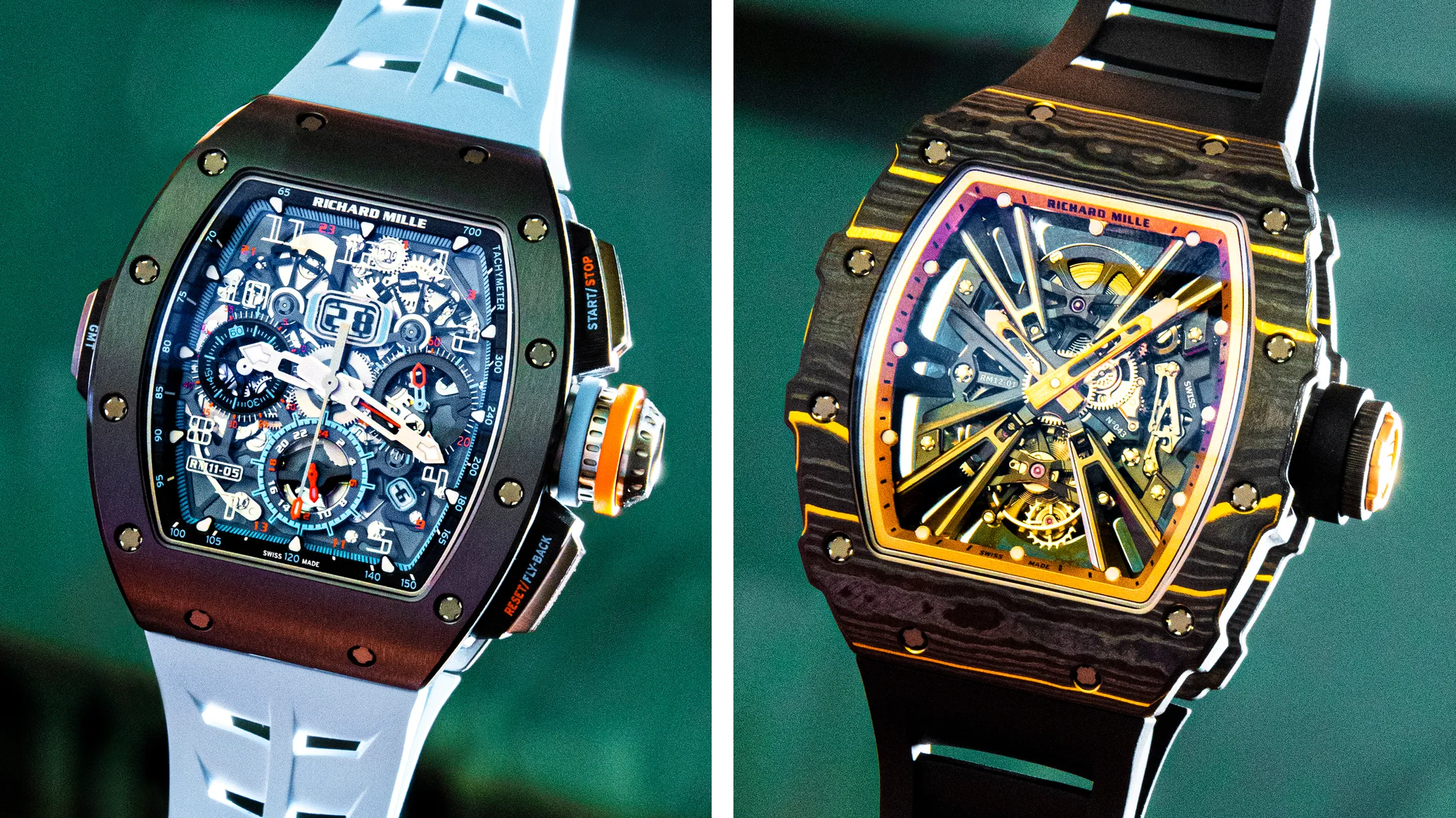 What is the average price of a Richard Mille watch?
If you're looking to purchase your first Richard Mille watch and you want to get an idea of how much you should expect to pay, the average retail price of a timepiece by this renowned watch manufacturer is currently around $200.000. When asking yourself the question "how much does a Richard Mille watch cost?" you really need to decide on the preferred case material, the functions you require, and of course, your preferred case shape since models like the RM-30, RM-11 and RM-55 wear significantly larger on the wrist.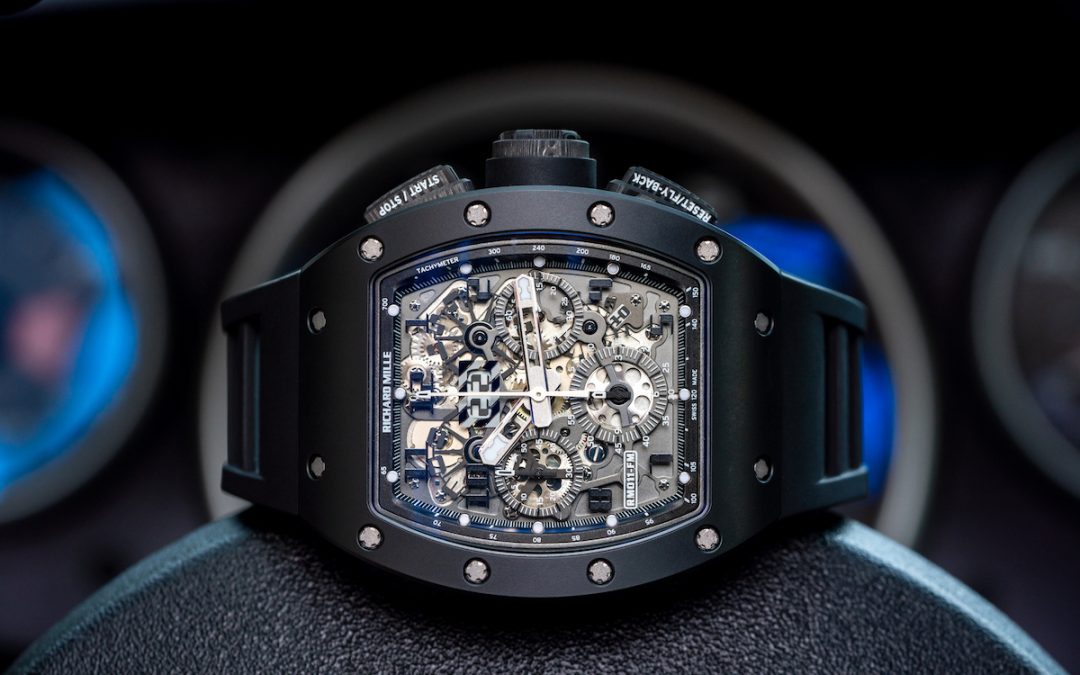 What is the Richard Mille Nadal watch?
Richard Mille is also renowned for partnering up with some of the world's top athletes to create wristwatches that are near-on indestructible. The Richard Mille Nadal watch is the RM 27-04 – a manual winding tourbillon. It joins other former models developed for the Spanish champion and king of the clay court, Rafael Nadal. Weighing just 30 grams including the strap, the watch has a carbon fibre and polymer case that the brand calls TitaCarb®. It also incorporates a brand new micro-blasted string mesh concept into its design, inspired by the process used to create strong tennis rackets. Vibrant shots of blue and red seen in the dial and strap of this latest Nadal Richard Mille watch add to its youthful character and abstract style.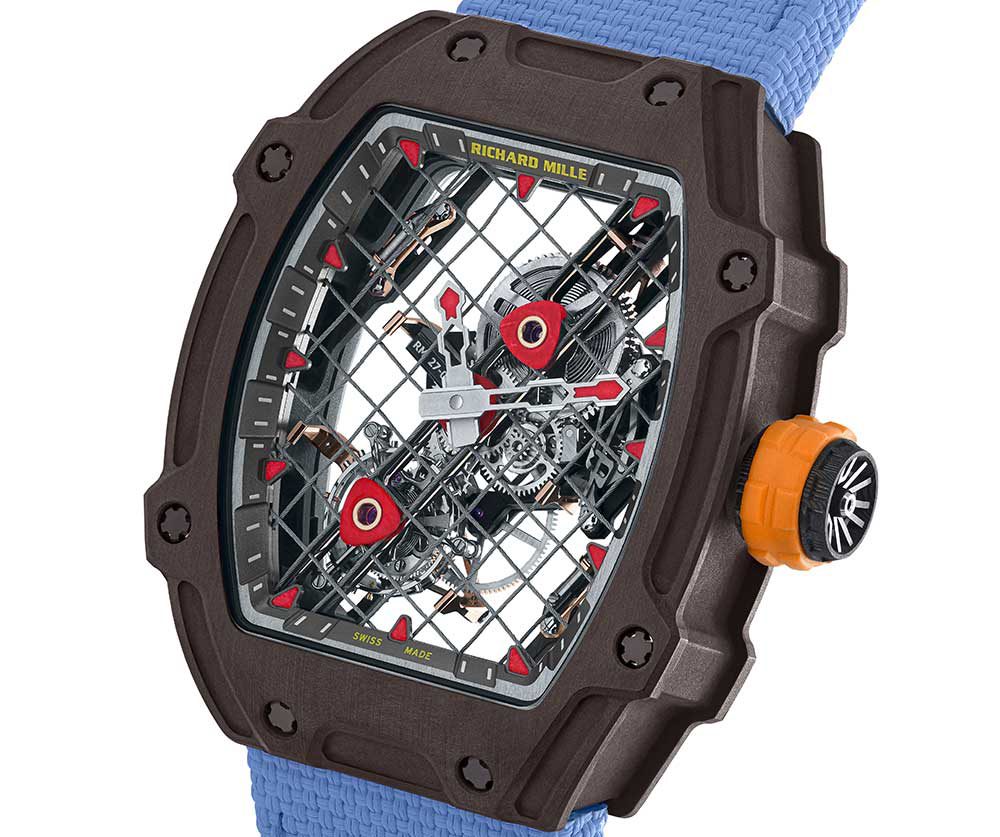 Which celebrities are wearing Richard Mille watches?
Richard Mille watches epitomize luxury, but they're also incredibly unusual to look at. Many watches offer a glimpse of the intricate components and mechanisms at play behind the dial, giving each RM watch a unique selling point and a style that celebrities are often drawn to. Many A-list stars and red-carpet celebrities are charmed by the extravagant designs that line the RM catalogue. The Cristiano Ronaldo Richard Mille watch, for example, is the RM11 NTPT Carbon Rose Gold Romain and is valued at around $550,000 on the preowned market. It became considerably more popular after it was sported on the wrist of the famous football player. Likewise, the Dan Bilzerain Richard Mille watch was first thought to cost $1 million but turned out to be the RM 11-03 McLaren watch, priced at around £192,000. Endowed with a vivid orange colour scheme, the model is fitted with a practical flyback chronograph function. Back in 2021 Drake made the headlines with his $5.5 million investment as a birthday treat for himself. The Drake Richard Mille watch, has a tourbillon movement enrobed in a solid sapphire case.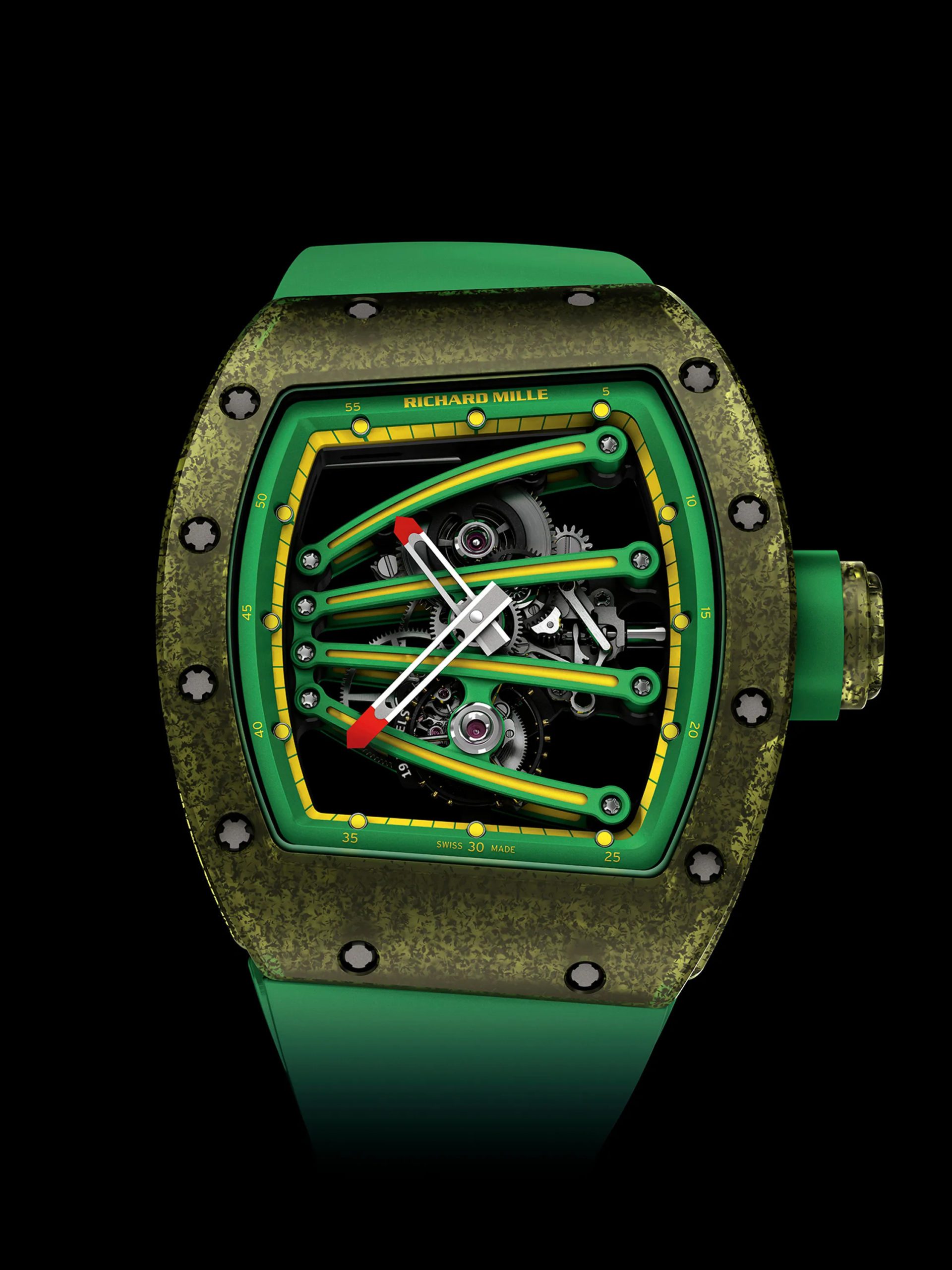 Richard Mille watches worn by celebrities differ drastically, both in price, style and design. Known as the Ed Sheeran Richard Mille watch, the RM 26-02 Evil Eye tourbillon is an eye-catching model that takes its inspiration from the Lord of the Ring's "Eye of Sauron" and is exclusive to just 25 pieces worldwide. The Floyd Mayweather Richard Mille watch, on the other hand, is the RM 59-01 Tourbillon 'Yohan Blake' and is dressed in rich emerald green tones. It is built with a high-performance tourbillon system that meets the requirement of the successful sprinter perfectly. The American professional basketball player, Lebron James also wears a Richard Mille watch. His taste for skeletonised dials is reflected in his collection of Audemars Piguet Royal Oak skeleton watches and the Royal Oak Offshore Tourbillon, but also the Richard Mille RM011 Felipe Massa. It features a flyback chronograph with a 60-minute countdown timer, a vibrant yellow strap and an annual calendar function. Not just appealing to a male audience, however, RM watches are also stylized on the wrists of female celebrities. The Nicki Minaj Richard Mille RM 07-02 watch was flaunted on the wrist of the "Super Base" singer as she took to her socials to promote her latest projects and is thought to own one of just eight models ever made.
Football manager Pep Guardiola's Richard Mille watch is the RM010 Automatic AMC Blue, which catches the eye with its premium blue and black aesthetic that has, no doubt, been worn many times at the side of the pitch thanks to its variable geometry rotor designed to enhance its winding motion. If you particularly like the brand's more outlandish watch designs, you may like the Richard Mille RM-52 Tourbillon Skull "Asia Edition", seen on the wrist of Post Malone. It boasts a giant skull that not only serves as decoration but as the heart of the watch, incorporating the baseplate and bridge, and the centre bridge of the movement. Lastly, the Travis Scott Richard Mille might appeal to you if you like to be forward in expressing your desires. The American rapper and songwriter wears the aptly numbered RM 69 'Erotic' watch with rollable panels on its dial, displaying a mix of erotic messages that certainly make a great talking point wherever he chooses to wear it.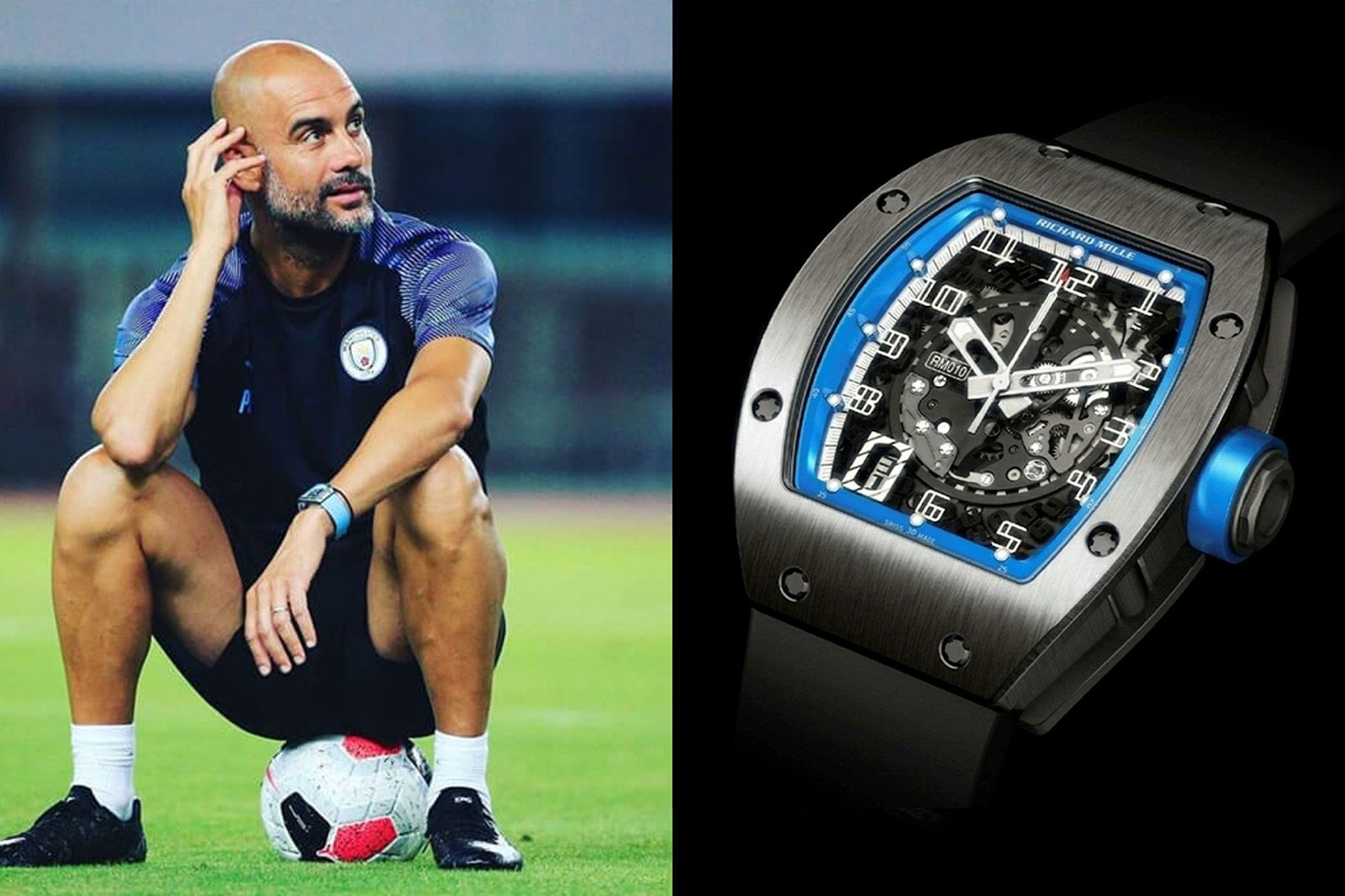 Pieces of Richard Mille watches
The cost of a Richard Mille watch will depend on the model itself and the function of its movement, together with the type of case material used. The rose gold RM 033 watch, for example, costs significantly less than a model crafted from carbon TPT or quartz TPT. A watch that combines both of these materials in its design, such as the RM 67-02 Automatic Wayde van Niekerk can be called your own for a little under $300,000. The RM 010 – otherwise known as the 6ix9ine0 Richard Mill watch - has a price of £240,000, the same price as his other favourite, the titanium RM 61-01 Yohan Blake. The RM 016, however, is the gateway into the RM watch-collecting world. The Automatic Winding Extra Flat watch is crafted from a mix of stainless steel and titanium – the more modest of materials used by the manufacturer, pricing it at around $60,000.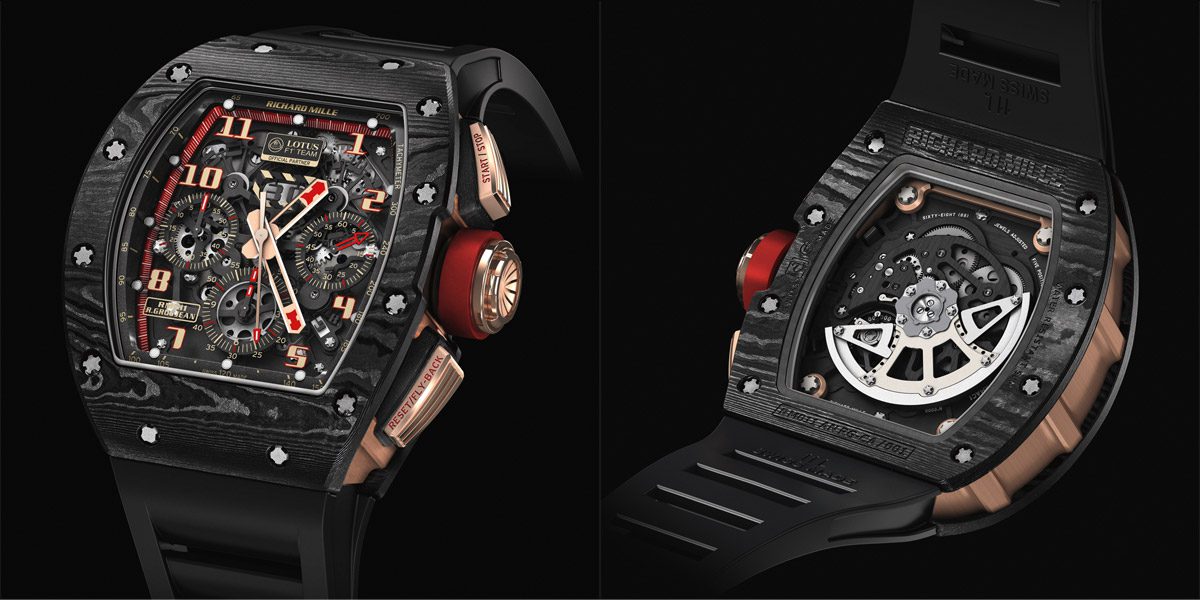 If you're asking yourself the question "where do I buy a Richard Mille watch from", you've come to the right place. You can buy a Richard Mille watch from us here at Watches World. Our specialist team know everything you need to know about buying a new or preowned watch from Richard Mille or exchanging your current timepiece for a new one. If you've spotted a Richard Mille watch for sale on our Watches World e-commerce site, you can trade safely with the knowledge that an exchange is done authentically and professionally by our skilled team who are dedicated to making your shopping experience with us a trustworthy and memorable one.