Loved the world over for its multifunctional wristwatches that are both reliable and precise, Omega has been creating exceptional timepieces since the 19th century and is known for popular designs like its Seamaster 300, Aqua Terra, Constellation, and Speedmaster. Above all, the company is best known for its Speedmaster Moonwatch chosen by NASA for its Apollo missions, yet recreational and professional divers alike have always turned to the brand's diving range for unparalleled quality and robustness.
From the release of the Goldeneye film in 1995, the British secret agent working for MI6 who goes by the name 007 or James Bond is seen wearing the Omega Seamaster Professional watch Reference 2541.80. From then, Omega became the only brand to appear on the fictional character's wrist thereafter. This sparked a new-found cult-like following for Omega watches, tapping into a whole new clientele. Today, the love for the Seamaster continues and is considered the ultimate Bond watch.
There is a plethora of Omega luxury watches to explore here at Watches World. To make it easier, we've included everything you might need to consider before buying one, from new to old and functional to stylish. Omega's first watch on the moon was the iconic Speedmaster and has acquired such a renowned reputation since 1969 that you'll often see many celebrities wearing Omega watches, including the Speedmaster, but also other popular timepieces like the Constellation and Seamaster.
FAQs about the Omega brand
Who makes Omega watches?
Omega is owned by a company called the Swatch Group. The international group is huge, owning brands such as Breguet, Certina and Blancpain. The company that specialises in the sale and manufacture of watches, movements and components.
Where is an Omega watch made?
All Omega watches boast the "Swiss Made" stamp on their dials, meaning that they are all made and assembled in Switzerland. To bear the "Swiss Made" lettering on a watch, the brand must have at least 60% of its watches made in Switzerland.
Are Omega watches good?
The quality timepieces manufactured at Omega are technically advanced and promise to last throughout the generations. Considered a leader in mechanical watch manufacture, Omega is also one of the oldest Swiss watch brands still in existence and has reached huge milestones in history.
Why are Omega watches so expensive?
The high-quality standards adhered to by Omega in the design and development of all its wristwatches are rare and well-respected. Many rivals within the industry can only aspire to come close. For this reason, the quality, beauty and functionality of an Omega watch are often reflected in its price tag. Omega's use of exquisite materials such as Lapis Lazuli dials, platinum cases and scintillating gemstones all increase the price of Omega's finest offerings.
What is the most expensive Omega watch?
Not so long ago, an early model of Omega's 1957 Speedmaster watch sold at auction for a staggering $3.4 million. In addition to this, Omega also produced the Constellation Baguette, crafted from 18ct white gold and showcasing 459 Top Wesselton diamonds. It retailed for $700,000. Understandably, diamond Omega watches and gold Omega watches are sold for a premium price.
What is the best Omega movement?
Recently, Omega released the Super Racing Model – one of the latest Omega watches - and a new take on the Moonwatch. Its trailblazing design features an innovative Spirate System (a combination of the words "spiral" and "rate"). This new revolutionary Spirate System is patent pending and allows for small rate adjustments and as such is the most accurate movement that the famous brand has ever manufactured.
What is the best Omega watch for investment?
Omega watches are constantly fluctuating in value across the pre-owned market, but some models consistently make for great investments. Although the Constellation is the watch that Omega sells the most of, the Seamaster and Speedmaster watches are your best bet for investment purposes. The Omega Speedmaster Professional Moonwatch is, without a doubt, the brand's most iconic design, but it is also very classic. It still oozes style, making it one of the most appealing and desirable watches to own and therefore invest in.
How many watches does Omega make a year?
It is recorded that Omega churns out around 2 million watches every single year. This includes around 190,000 Seamaster watches and 10,000 Moonwatches per year.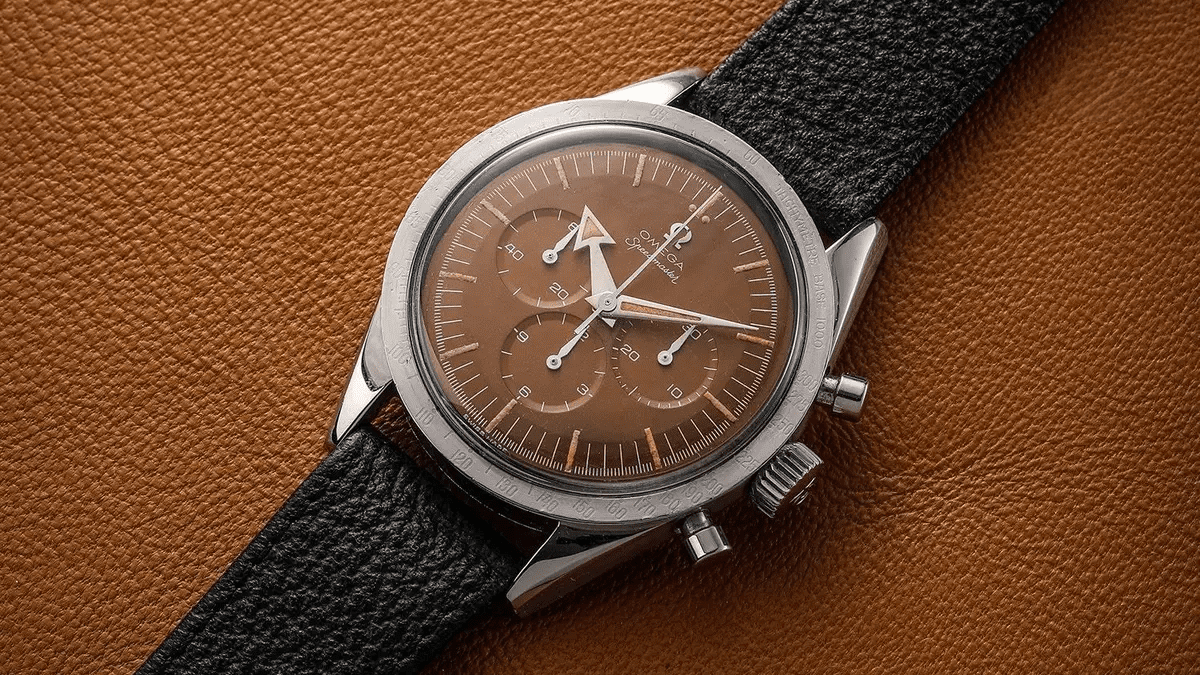 Do Omega watches hold their value?
The advantages of owning Omega watches are two-fold. Not only are they manufactured from top-grade materials and fitted with in-house movements but they're also a symbol of enduring style and class. For this reason, many Omega watches hold their initial value, whilst some can even appreciate in value over time.
Are limited edition Omega watches worth it?
Collectible Omega watches are often those like the Speedmaster and Seamaster. Some Omega limited edition watches, though not all, can increase in value. Don't presume, however, that a watch is worth more as an investment just because it has been produced in low numbers as this is often not the way that value works when it comes to Omega watches.
Where can I purchase an Omega watch online?
If you're wondering where to buy Omega watches, Watches World is your answer. Our expansive range of new and pre-owned Omega watches can be explored in full on our e-commerce site, where you can shop everything from Omega unisex watches, to rare Omega watches and even his and hers Omega watches. Whether you're looking to treat yourself to an 18ct gold Omega watch or want to kick-start your collection with an entry-level Omega watch, buying an Omega watch online has never been easier than with is.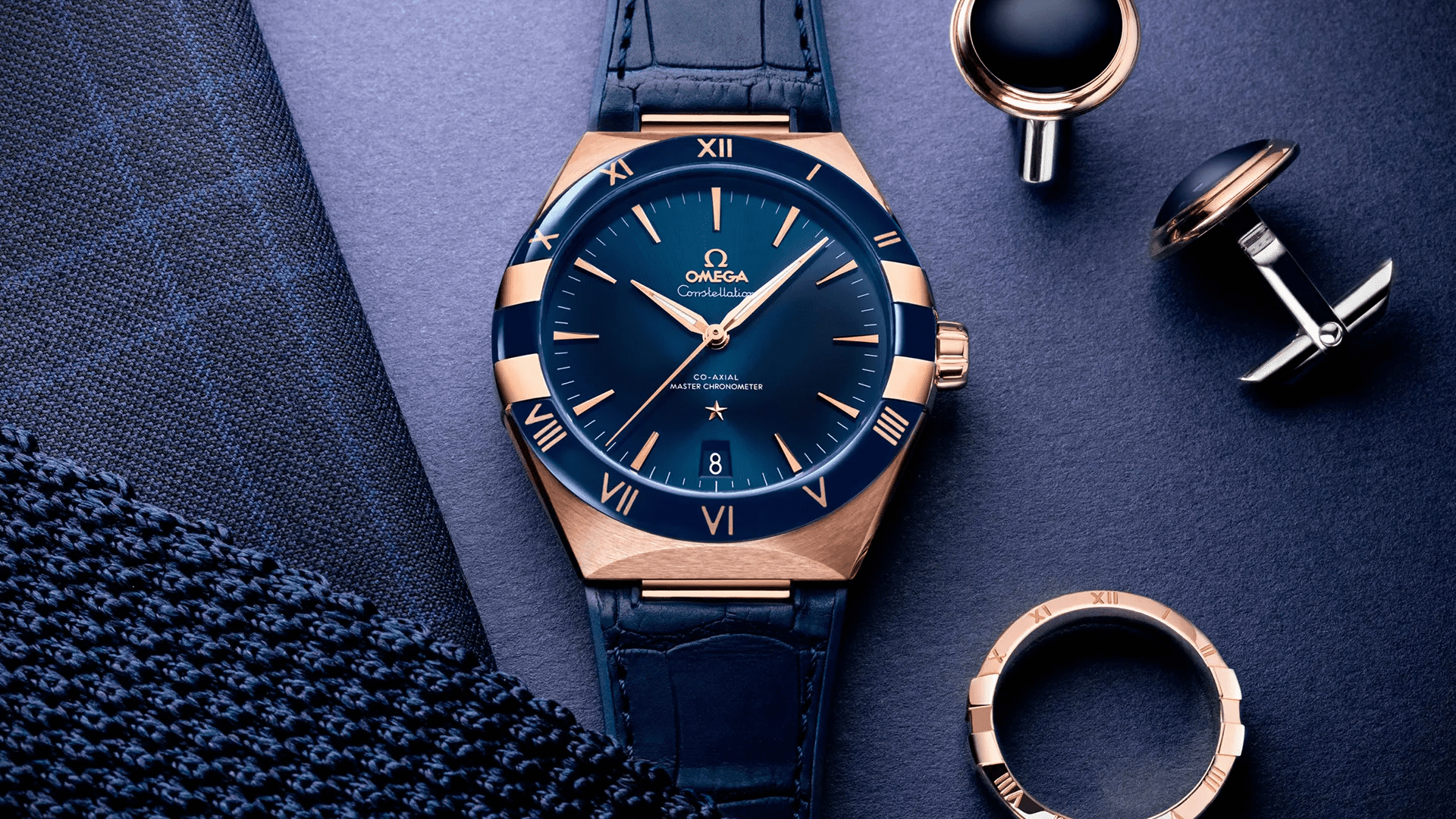 How to buy your first Omega watch
When it comes to trusting in a reputable dealer for Omega watches, buy online with a company that you have familiarised yourself with. If you're going to buy Omega watches online, you first need to know what to look for. It's always sensible to choose a watch with the widest appeal if you're looking to buy purely for investment purposes. Luckily, when it comes to Omega watches, that rule applies to most of the brand's catalogue. Ensure your watch also comes as a full set. This includes the warranty for the timepiece, a presentation box that is in good condition, and a manual. You should also make sure you check that the supplier you want to purchase from is an authorised dealer of pre-owned and new Omega watches, like us here at Watches World, and always read the company's reviews to check out how they operate as a service.
Of course, the best Omega watches to collect are often the most expensive Omega watches. That's what makes the majority of Omega watches that you see on the market worthy as an investment. If you're buying an Omega watch for wearing every day, choose a design with style longevity. That said, pretty much every Omega watch has a timeless style, so there's no great chance of error here. Consider also whether you require a small watch diameter, or whether you can get away with a larger one. This may determine which timepiece you opt for. Speedmaster watches, for example, tend to measure in the range of 42-43mm, whilst the Seamaster 300 and Aqua Terra watches promise a more manageable size.
Other factors to consider when buying an Omega watch for the first time include whether you prefer a vintage or modern Omega watch and whether you are opting for fashion over function or vice versa. Sports watches for actual outdoor activity, for example, are those such as the Speedmaster with their useful chronograph sub-dials, legible timing tracks and practical tachymeter scales. Whatever Omega model you choose, you're sure to have some fun shopping here at Watches World.
A brief buying guide to Omega's most popular models
The Speedmaster
Surprisingly, the Speedmaster was initially designed for the racetrack, yet when Buzz Aldrin became the first man to step foot on the moon in 1969 sporting the Speedmaster reference ST105.012 on his wrist, the model became a must-have collectable. Since then, Omega has launched several versions of the Speedmaster – the closest relative to the original design being the reference 311.30.42.30.01.005. Mint conditions of this original can still be found on the pre-owned market, whilst newer versions are continually being introduced into the brand's current catalogue. With a scratch-resistant sapphire glass front and a black ceramic bezel, the Speedmaster "Dark Side Of The Moon" reference 311.92.44.51.01.003 is another iteration of a Speedmaster that is steadily increasing in value. If you're looking for Omega classic watches, look no other place than the diverse Speedmaster collection, which also holds some platinum Omega watches such as the current reference 311.93.44.51.01.002.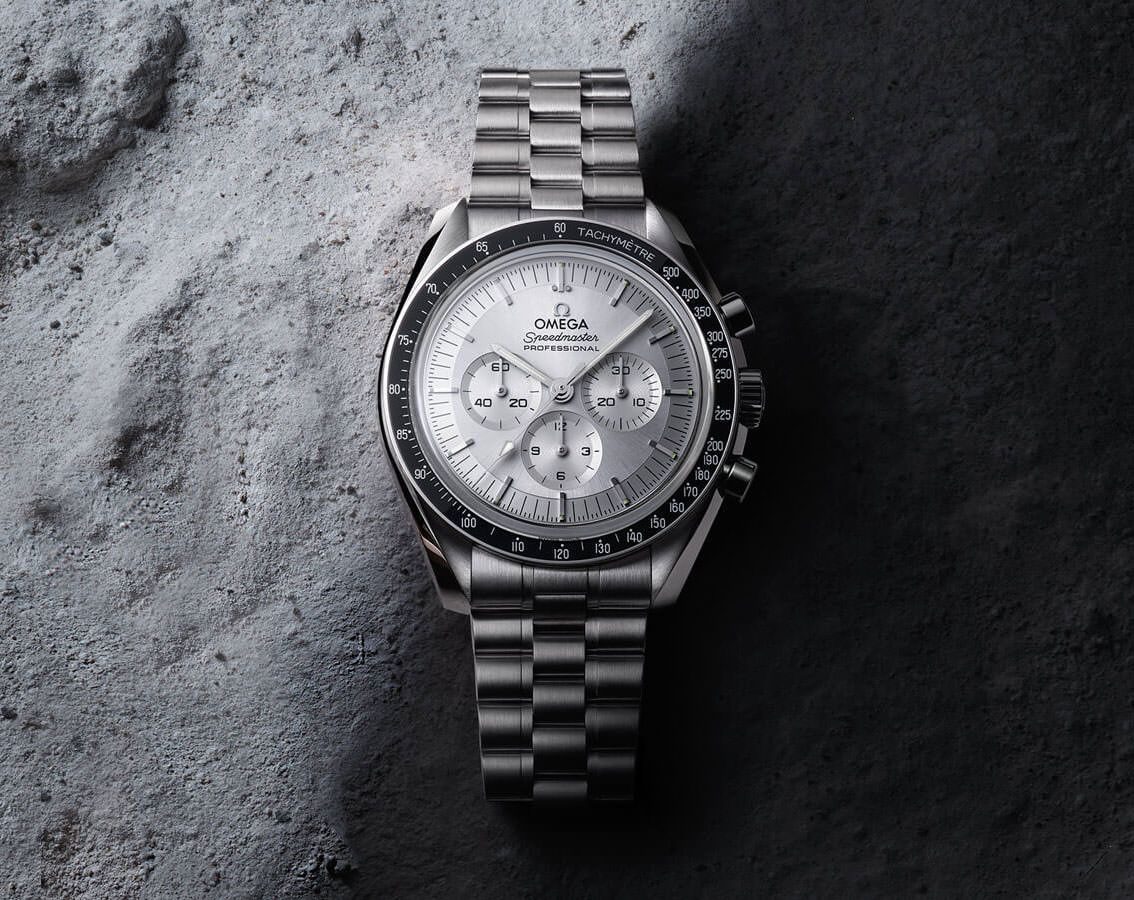 The Seamaster
Belonging to the Seamaster collection, the Seamaster 300 is a cornerstone to this range with high water resistance, a robust case design and a legible dial. It's undoubtedly the best looking Omega watch in many people's opinion and comes in several material finishes and dial colours. As its name suggests, the Seamaster 300 watch is known for its 300-meter water resistance. The reference 233.30.41.21.01.001 is a resolutely classic model with a black dial, a stainless steel bracelet and a matching black bezel crafted from ceramic. As mentioned, this Seamaster watch can also be enjoyed on an 18ct gold case and bracelet, whilst a bronze and gold alloy version is a preferred option if shopping on a budget. The Seamaster range is also where you'll find higher-priced titanium Omega watches like the Planet Ocean 600.
Omega is considered an expert in crafting practical and functional, high-quality dive watches and has a long history to support this. The Diver 300M is a more advanced diver's watch and is a level up from the Seamaster 300 thanks to its helium escape valve. Models like the reference 210.30.42.20.01.001 are also powered by the Omega Co-Axial Master Chronometer calibre 8800 with a 55-hour power reserve. If the stainless steel versions are too standard for you, you can also enjoy the Diver 300M on a two-tone design in yellow gold and steel or rose gold and steel. The five-link bracelets on these models elevate the watch to a dressier level for evening wear, yet the model can also be worn on a rubber strap.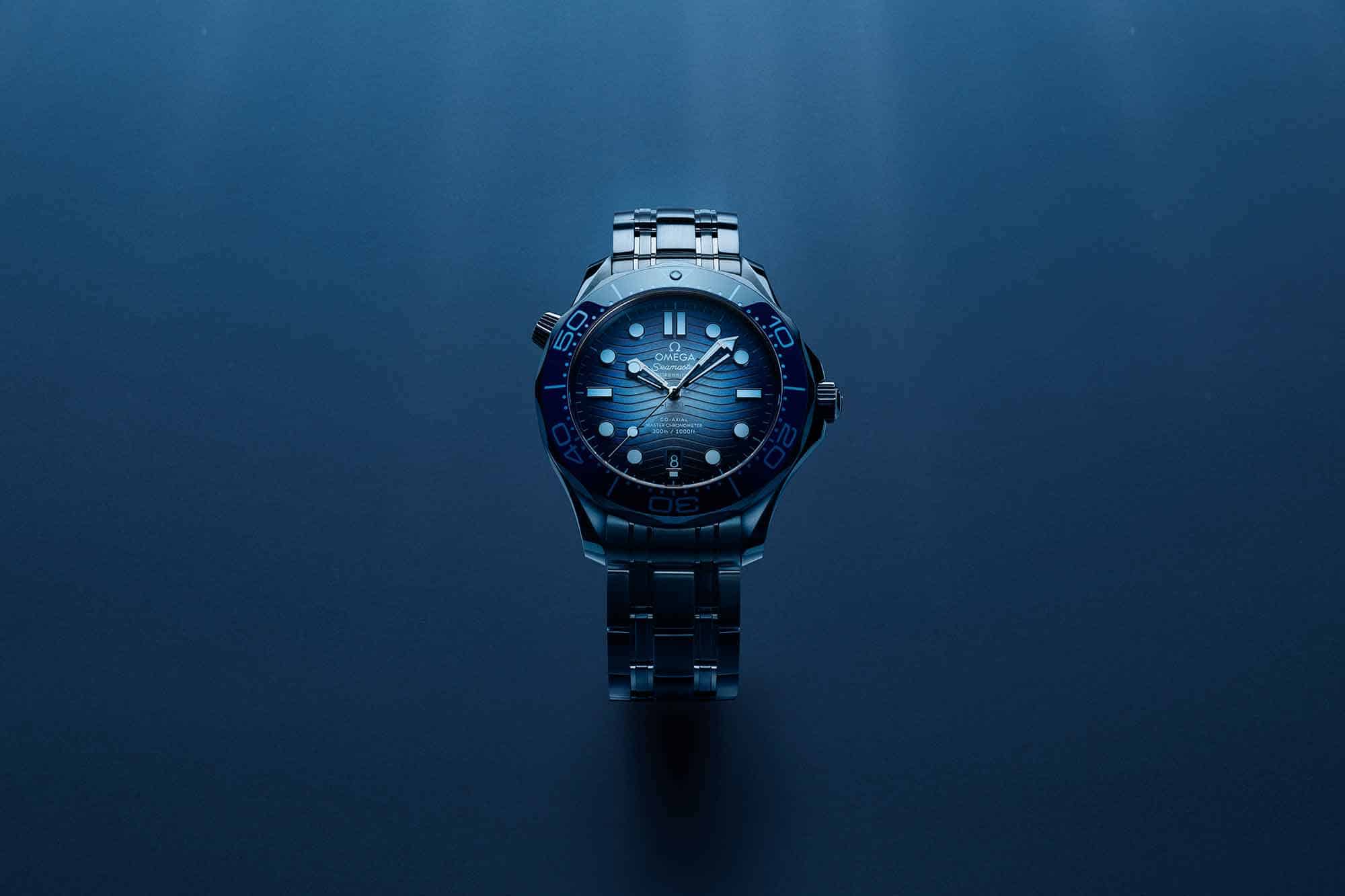 The Constellation
A range that comprises several ladies' Omega watches and men's Omega watches – the Constellation. It is home to less technical wristwatches compared to the Seamaster and the Speedmaster, instead offering a simple and elegant style that is characterised by the famous raised parts on the bezel known as "griffes" or "claws". Many models from this series are distinguished by gold and diamond-set finishes, as well as being offered in both quartz and automatic versions. Constellation watches by Omega are classic and modest, yet have an understated sporty side that makes them perfect for wearing with casual attire at the weekend.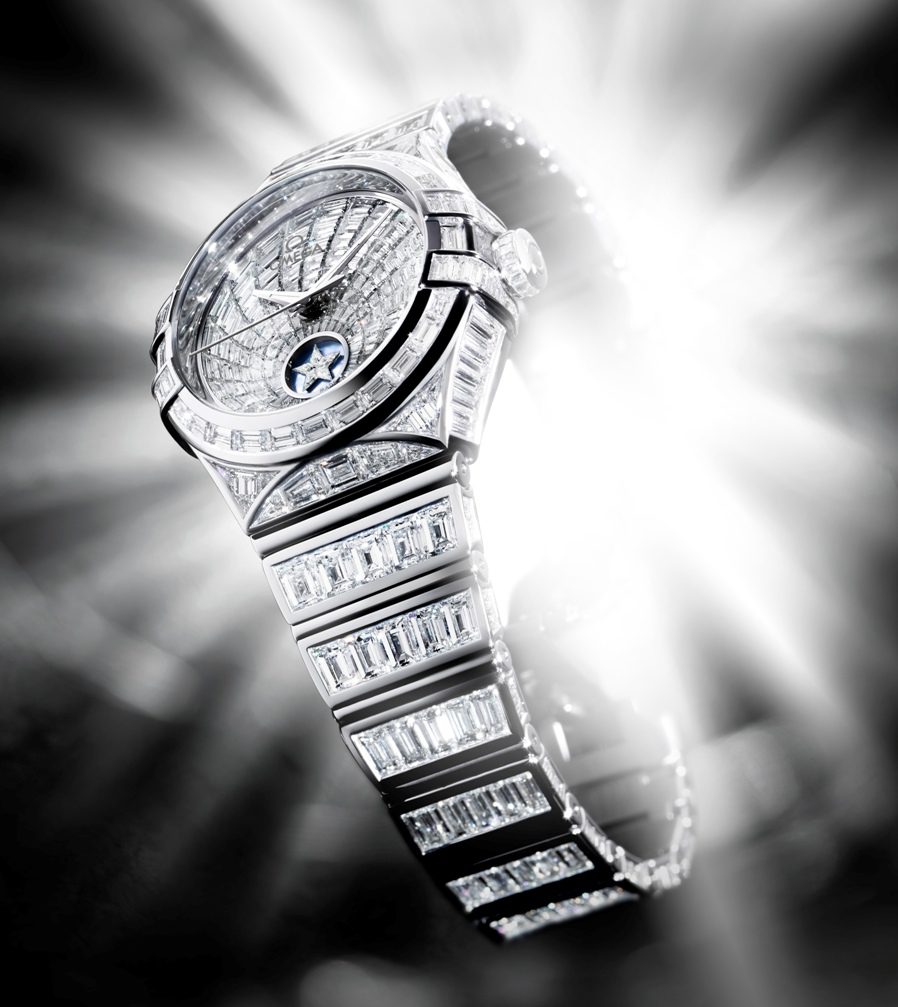 The De Ville
If you're looking for an Omega dress watch, the De Ville range is a great place to start. Even more classic than the Constellation series, De Ville watches were first introduced in the 1960s and are recognisable for their clean designs featuring Roman numerals for the hour markers, as well as models offered in the brand's proprietary Sedna Gold materials. Some tourbillon watches from the De Ville collection are powered by the Calibre 2638, which features a tourbillon cage crafted from lightweight titanium and a platinum oscillating weight.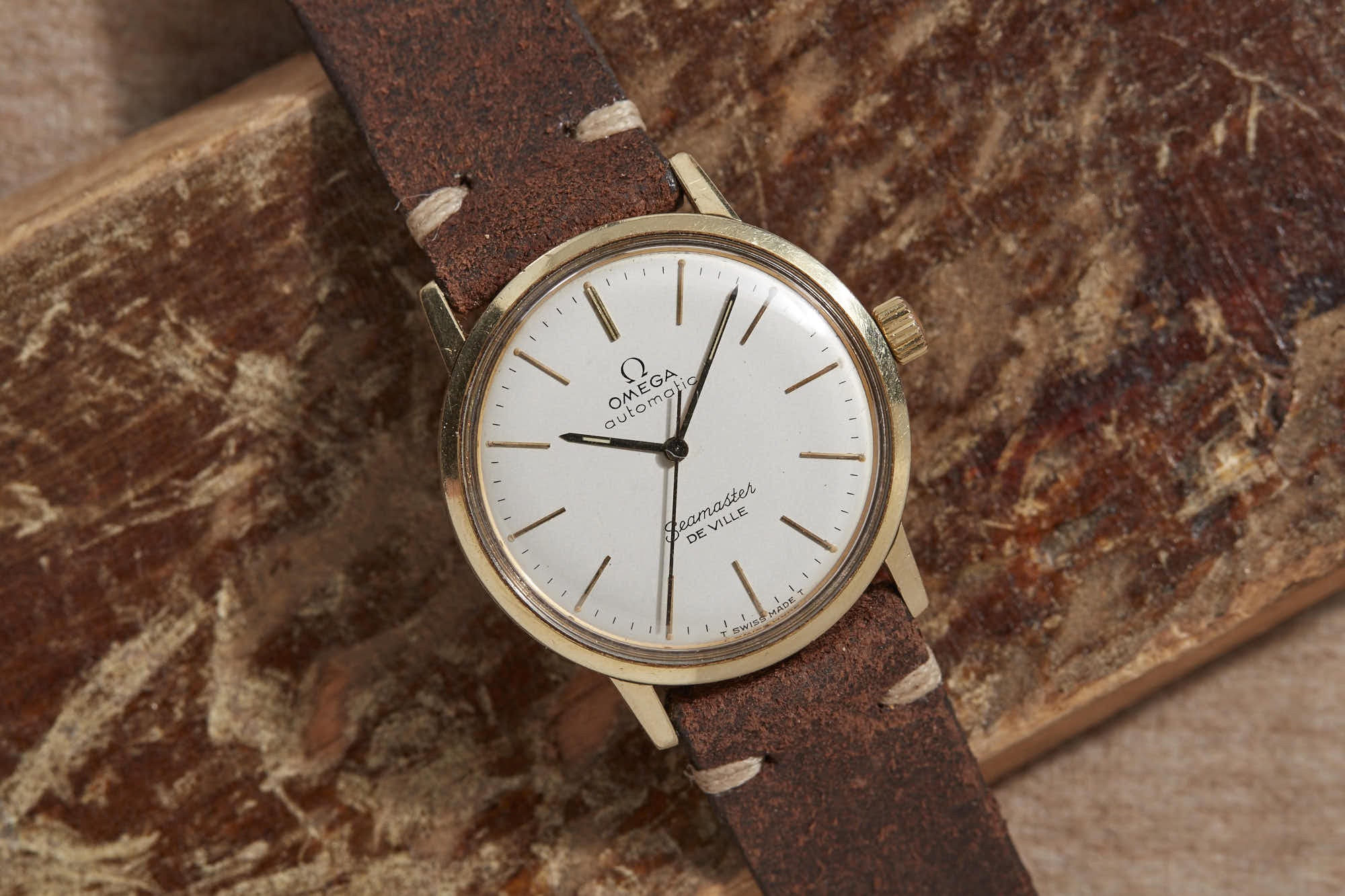 Conclusion
Whilst it's true that some Omega watches depreciate in value if purchased at full price from new, all Omega watches share one thing in common- they all stand the test of time in terms of exceptional performance, robustness, longevity and reliability. It's impossible to find an Omega watch that won't outlive you, so all Omega Swiss watches purchased here at Watches World are a guaranteed heirloom to hand down the family line. Having become the manufacturer of the first wristwatch to land on the moon, Omega has played a significant role in the history of timekeeping. Combined with that, the brand has made several appearances on the wrist of Agent 007 and continues to push boundaries in horological excellence with its long line of in-house-made calibres, enduring styles, and state-of-the-art technologies.