F.P. Journe
Discover our prestigious collections of luxury watches.
Gender

0

Bracelet color

0

Case material

0

Bracelet material

0

Case diameter

0

Bezel material

0

Movement

0
Filter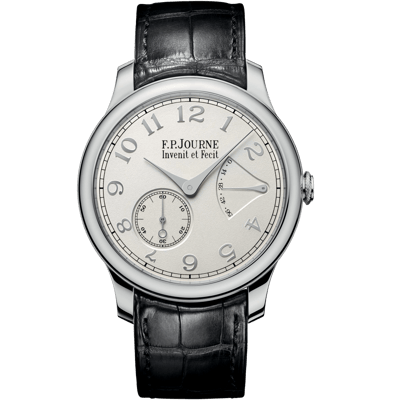 F.P. Journe | Men & Ladies Watches | Watches World
Invenit et Fecit
What has grown to become a famous Swiss luxury watch brand started as a watchmaking business by a Frenchman named Francois-Paul Journe. Founded in 1999, F.P. Journe has risen to become an exclusive watch brand within a short period. F.P. Journe is relatively new in the watchmaking industry compared to other brands like Patek Philippe, Rolex, and Blancpain. F.P. Journe makes all its movements in-house, and it's one of those brands still under the founder's ownership and leadership. Over the years, it has become a top choice for watch collectors and enthusiasts.   
Why are F.P. Journe watches so expensive?
F.P. Journe belongs to the upper echelon of the exclusive brands, and they make less than a thousand timepieces yearly. And with only ten boutiques globally, getting your hands on an F.P Journe can be very challenging. F.P. Journe prices range from $40,000 to at least $200,000. And they cost more in the pre-owned market.
How many watches does F.P. Journe make a year?
F.P. Journe has six known watch collections since its entrance into the market: Classique Linesport, Elegante, Boutique, Black Label, and the Limited Series. But across these collections, F.P. Journe still makes less than 1000 timepieces annually. The small number is credited to the technical work that goes into producing all their watches.  
What is the best F.P. Journe?
When it comes to the best F.P. Journe, there is no shortage of incredible watches. The illustrious brand has mastered the technique of making timepieces that grab the attention of watch geeks and connoisseurs. The Chronometre Souverain, for example, is a favourite of watch enthusiasts and arguably the best F.P Journe watch. It was voted the best men's watch at the Geneva Grand Prix D'Horlogerie in 2005. Another wonderful F.P. Journe watch is the Dead Beat Seconds Tourbillon. It comes with a 40mm Platinum or 18k Rose gold case, has a power reserve of up to 42 hours, and contains a small seconds dead beat counter. As mentioned earlier, F.P. Journe knows how to keep watch enthusiasts captivated. They manufacture watches with laudable novelty time and again.

Secured and
tracked delivery
Passionate experts
at your service
Help and
customer service 24/7
All your payments
secured
We accept all these payment methods. ALL YoUR DATA ARE SECURED.

Get the latest deals and more
You have been subscribed to our newsletter and will receive the latest deals!
If you want to unsubscribe from receiving our newsletter, then please use the 'unsubscribe' button on the message that you will receive and follow the instructions.
The product link has been copied to clipboard!