MB&F
Discover our prestigious collections of luxury watches.
Gender

0

Bracelet color

0

Case material

0

Bracelet material

0

Case diameter

0

Bezel material

0

Movement

0
Filter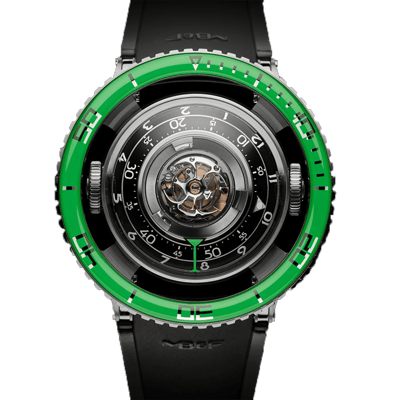 MB&F
Maximilian Busser & Friends, commonly called M.B. & F, has been referred to as one of the world's most unusual and unconventional watchmakers. Founded in 2005 by Maximilian Busser, MB&F is one of the newer watch brands that has shaken the World of Swiss horology. MB&F is renowned for getting their inspiration from animation, robots, and science fiction. This inspiration also extends to the names of their collections like the Horological machines and Legacy machines. MB&F makes timepieces that excite the most ardent watch lover, who is also coincidentally a sci-fi and robotics lover. Welcome to a new world of exploring how the brand merges scientific curiosity and horology.
Are MB&F watches good?
To create timepieces representing what the brand stands for, MB&F goes through meticulous research and innovations. Their creations set the brand apart from others. Some of MB&F watches have over 500 components that are all intricately hand assembled to give them the perfect touch and finishing. MB&F watch cases are made with gold and stainless steel. However, the brand infuses high-quality materials like titanium, ceramic, and sapphire crystal from time to time. From concept to eventual production of MB&F chronographs takes a lot of years. The result of this is low production and a high level of exclusivity.  
Where are MB&F watches made?
MB&F is an independently owned brand based in Geneva, Switzerland. All MB&F watches are made and assembled in-house. In 2011, Busser expanded the company by creating Mechanical Art Devices, or M.A.D. M.A.D is a gallery where the company displays sculpted horological machines and arts by other artists.
How much is my MB&F watch worth?
MB&F makes their unconventional timepieces worth the attention of any watch nerd and collector. Their machine build, cost of production, and annual output makes MB&F extremely rare in the market. So, if you ever own a used MB&F watch in mint condition, you could be smiling to the bank. Rare editions will multiply in value as time progresses.  

Secured and
tracked delivery
Passionate experts
at your service
Help and
customer service 24/7
All your payments
secured
We accept all these payment methods. ALL YoUR DATA ARE SECURED.

Get the latest deals and more
You have been subscribed to our newsletter and will receive the latest deals!
If you want to unsubscribe from receiving our newsletter, then please use the 'unsubscribe' button on the message that you will receive and follow the instructions.
The product link has been copied to clipboard!