In this article, we're going to cover all Rolex watches from the most popular collections to casual Rolex watches, to sporty timepieces and some of the latest Rolex watches on the market. Let's start with a list of answers to questions that people most often ask about the famous Rolex brand.
FAQs about the brand with the five-pointed crown
How accurate are Rolex watches supposed to be?
Tested to Superlative Chronometer Standards, all Rolex watches promise an accuracy of -2/+2 seconds per day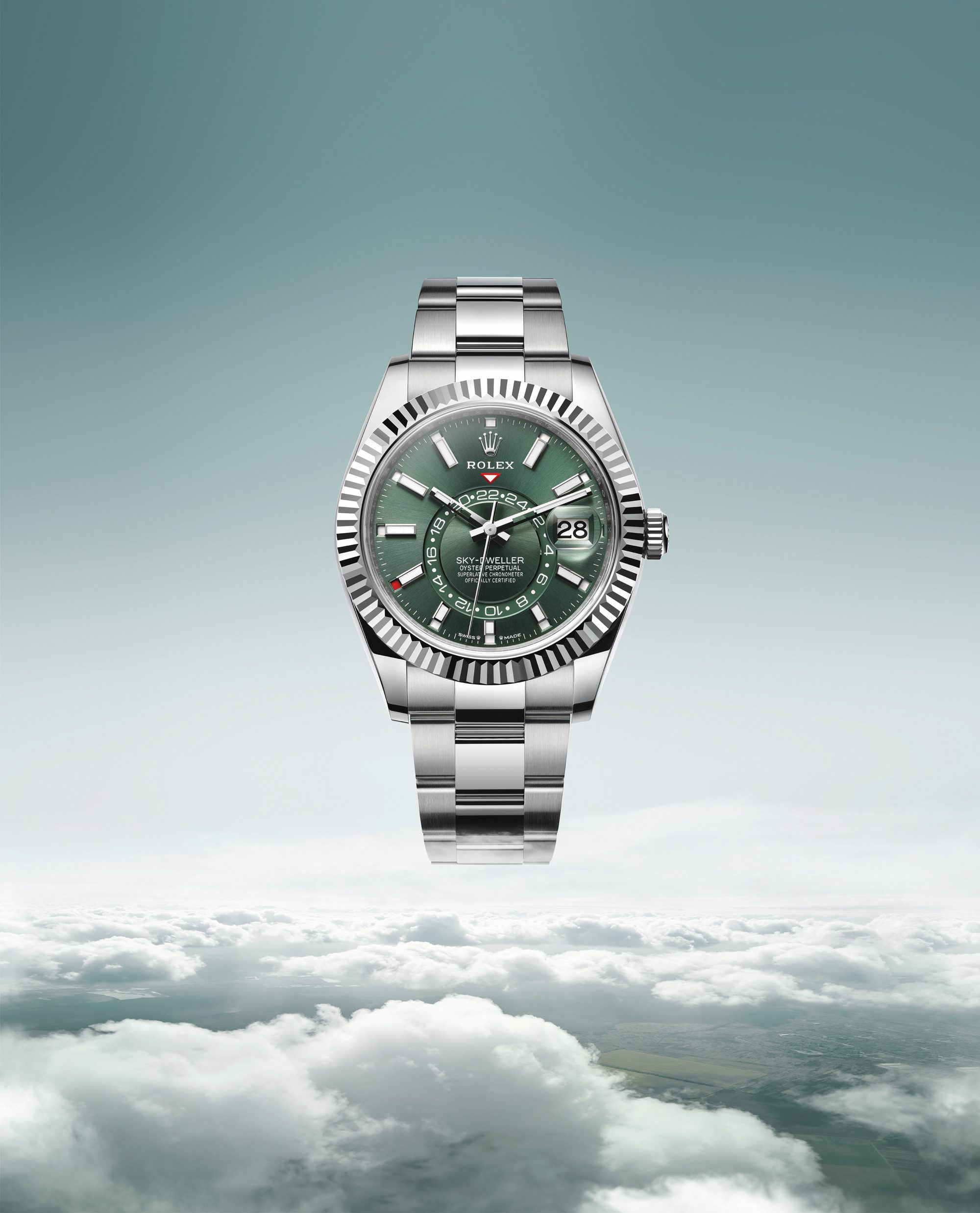 Are all Rolex watches automatic?
All Rolex watches these days are mechanical. Most are automatic, whilst a rare few are manually winding.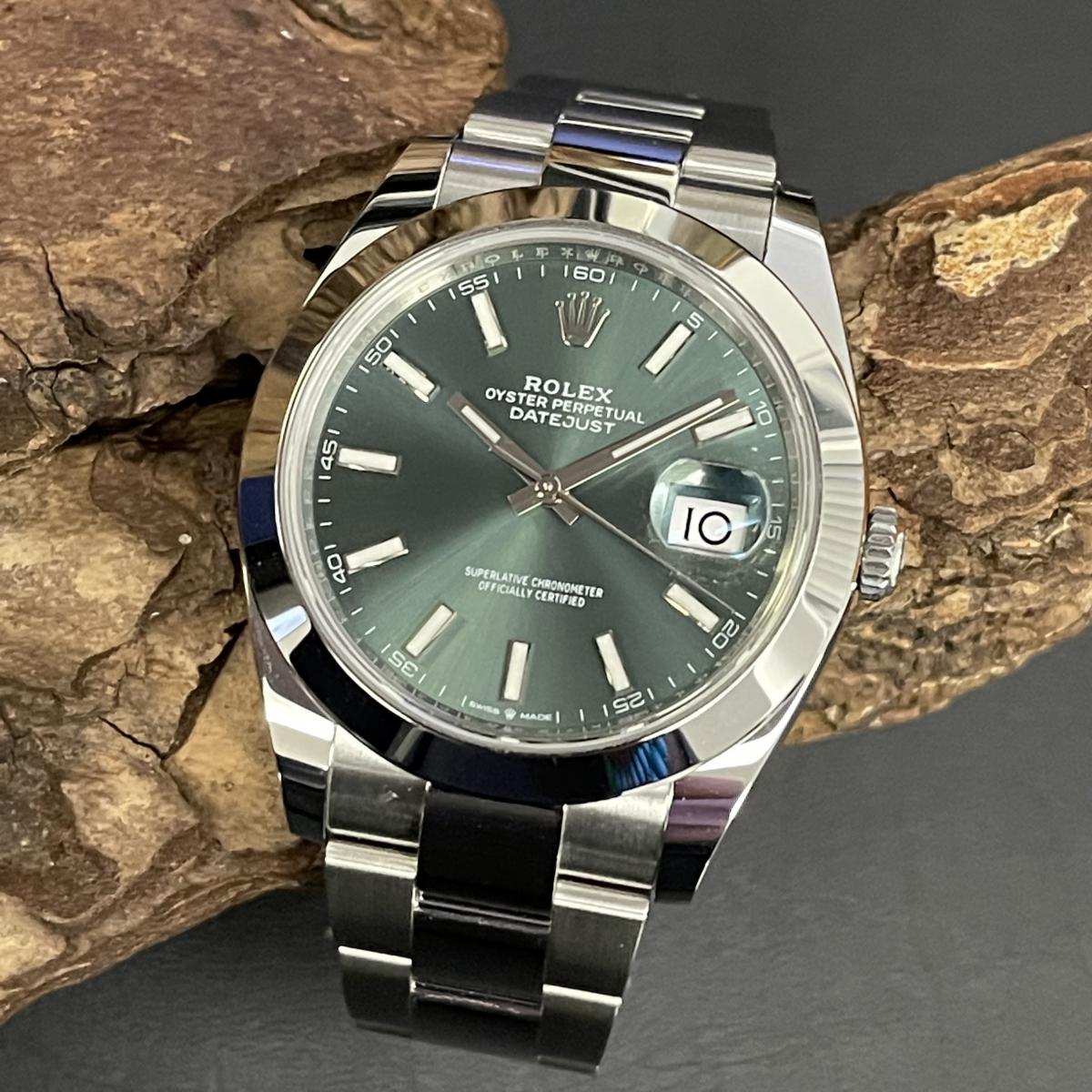 Are all Rolex watches waterproof?
All Rolex watches are water-resistant to a specified depth. Whilst Rolex watches such as the Cellini, designed as a dress watch, offer a water resistance of just 50 meters, other more rugged and robust tools like the Rolex Deepsea and Sea-Dweller watches can promise unfathomable water-resistant ratings reaching up to 4,000 meters.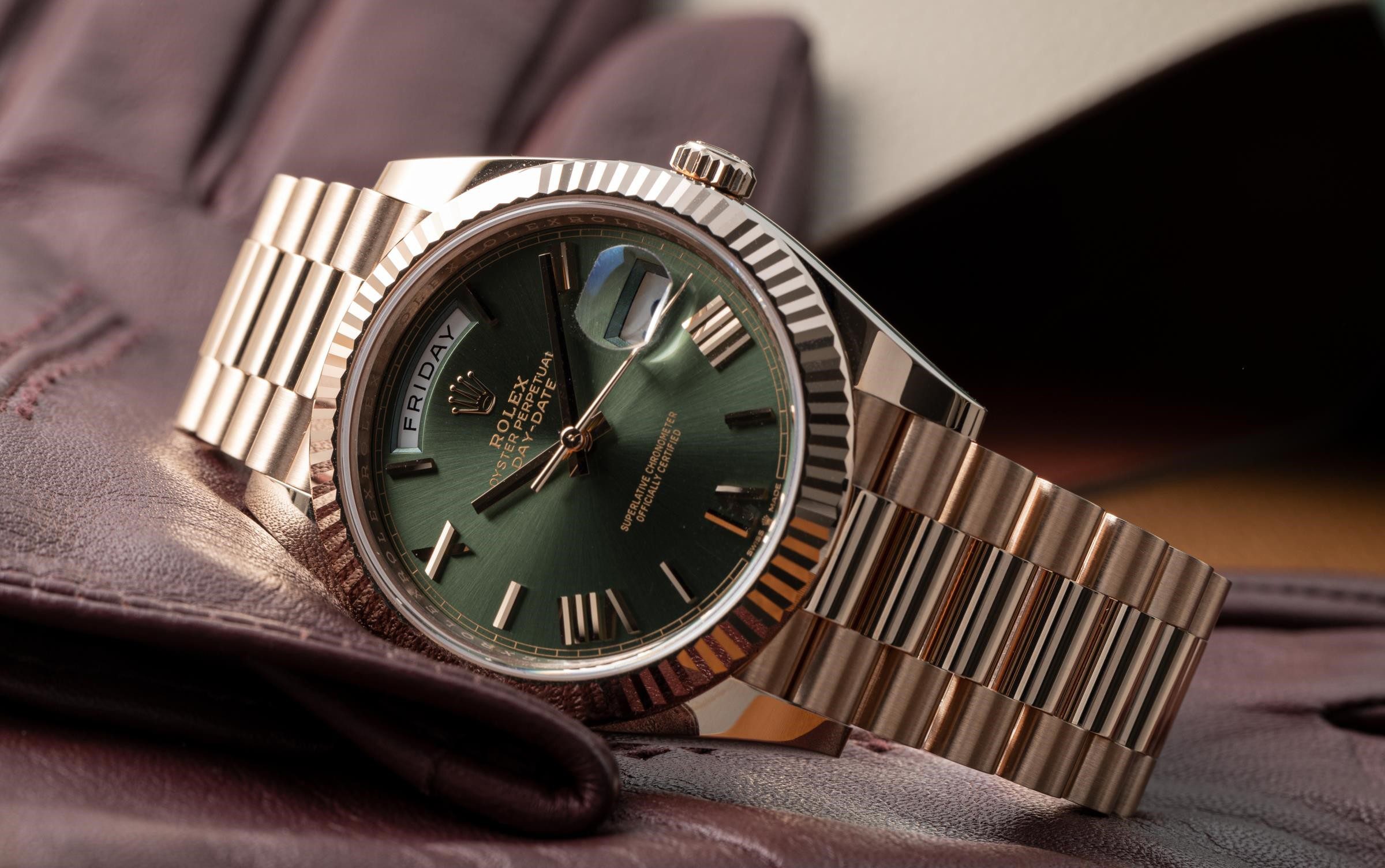 How long does it take to make a Rolex watch from start to finish?
Although the hours of developing and conceptualising an innovative watch design at Rolex can take many months, the actual hand assembling of all the individual pieces of a Rolex timepiece by an expert watchmaker in-house can take around 3-4 hours.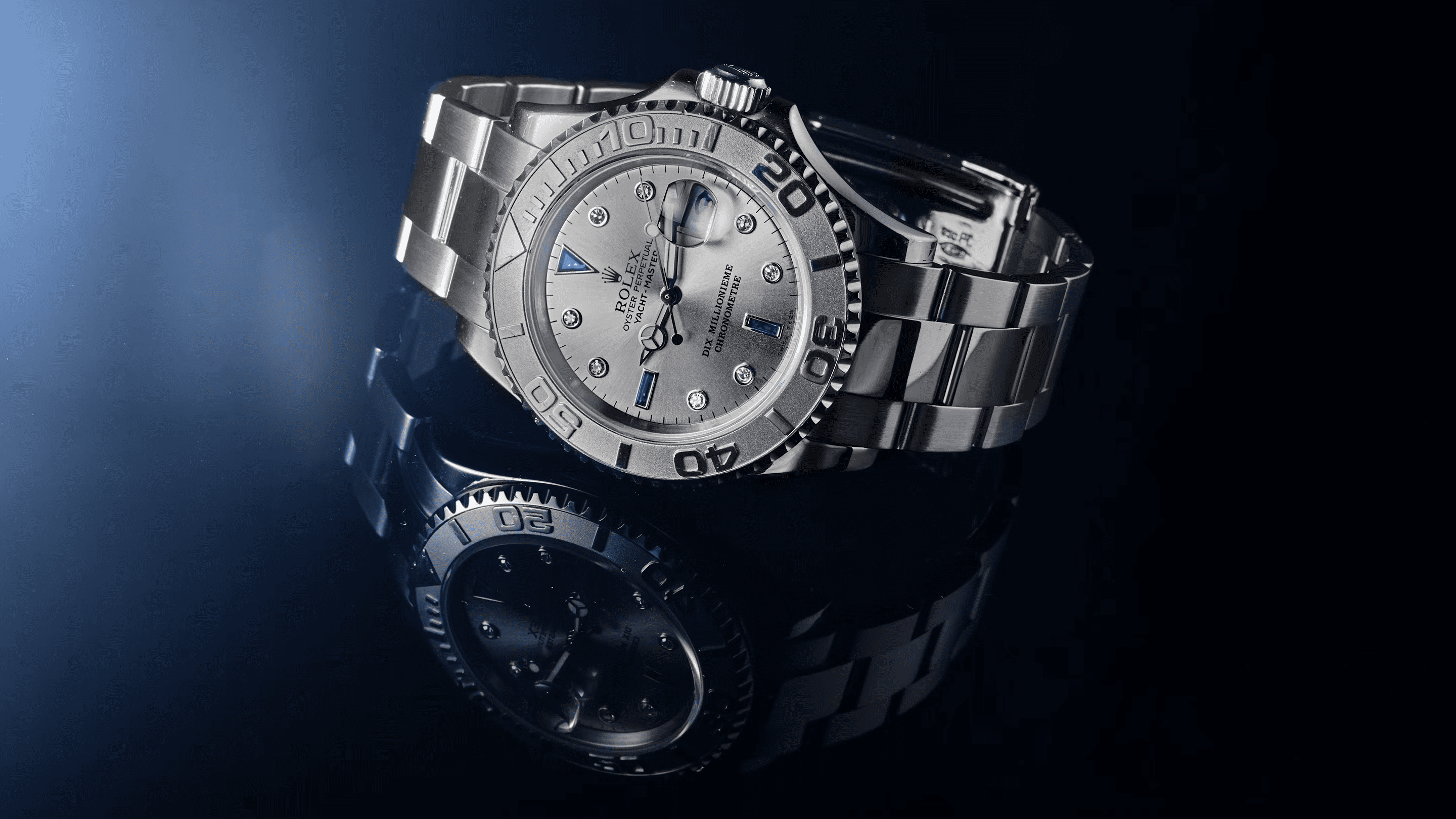 How many Rolex watches are made each year in Switzerland?
British-founded Swiss watch designer, Rolex is based in Geneva Switzerland and rolls out around a million wristwatches per year.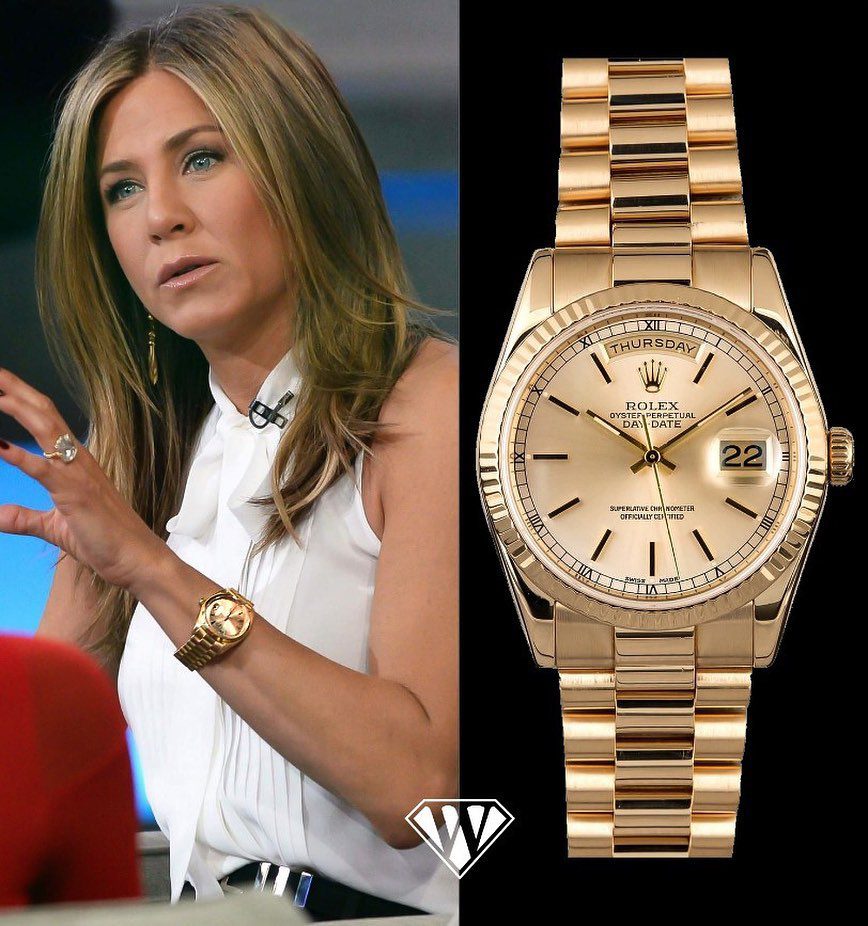 What is the recommendation for the best Rolex watch for men?
The Rolex GMT-Master II watch is, in many ways, considered a great watch for men thanks to its practical and hardwearing design that is both manageable on the wrist and versatile enough to pair with many different styles of attire.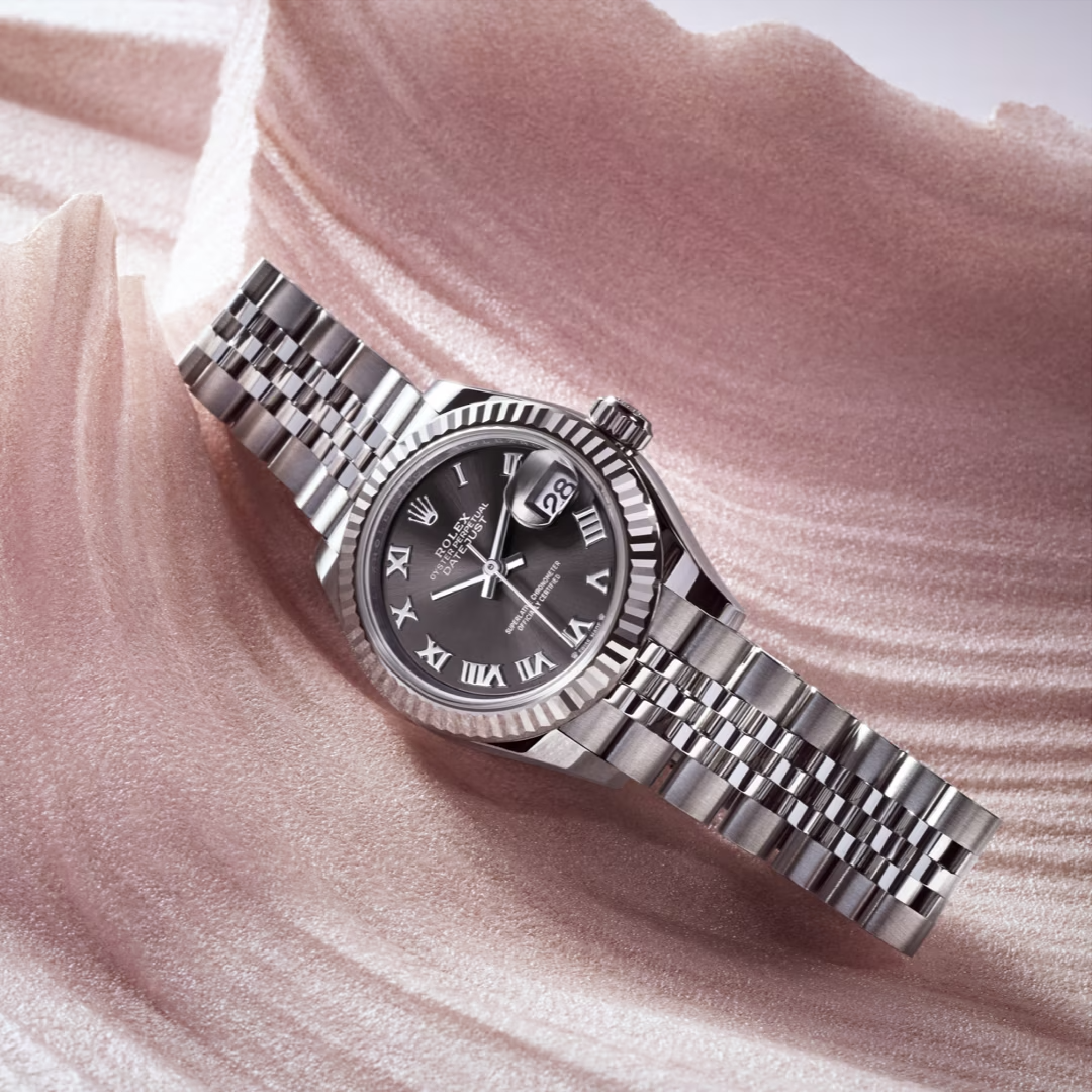 What is considered the best Rolex watch for women?
The Ladies Oyster Perpetual and Lady-Datejust are considered the best women's Rolex watches – the Oyster Perpetual for its simplicity and fundamentally elegant styling, and the Lady Datejust for its gracefulness and its distinct cyclops lens that hovers over a practical date aperture at 3 o'clock.
Is buying a Rolex a good investment?
No matter how you look at it, buying a Rolex watch as a solid investment will always be a good choice. Even if not one of the most coveted of designs, a Rolex watch will lose very little in value over the years and is more likely to increase as time goes on.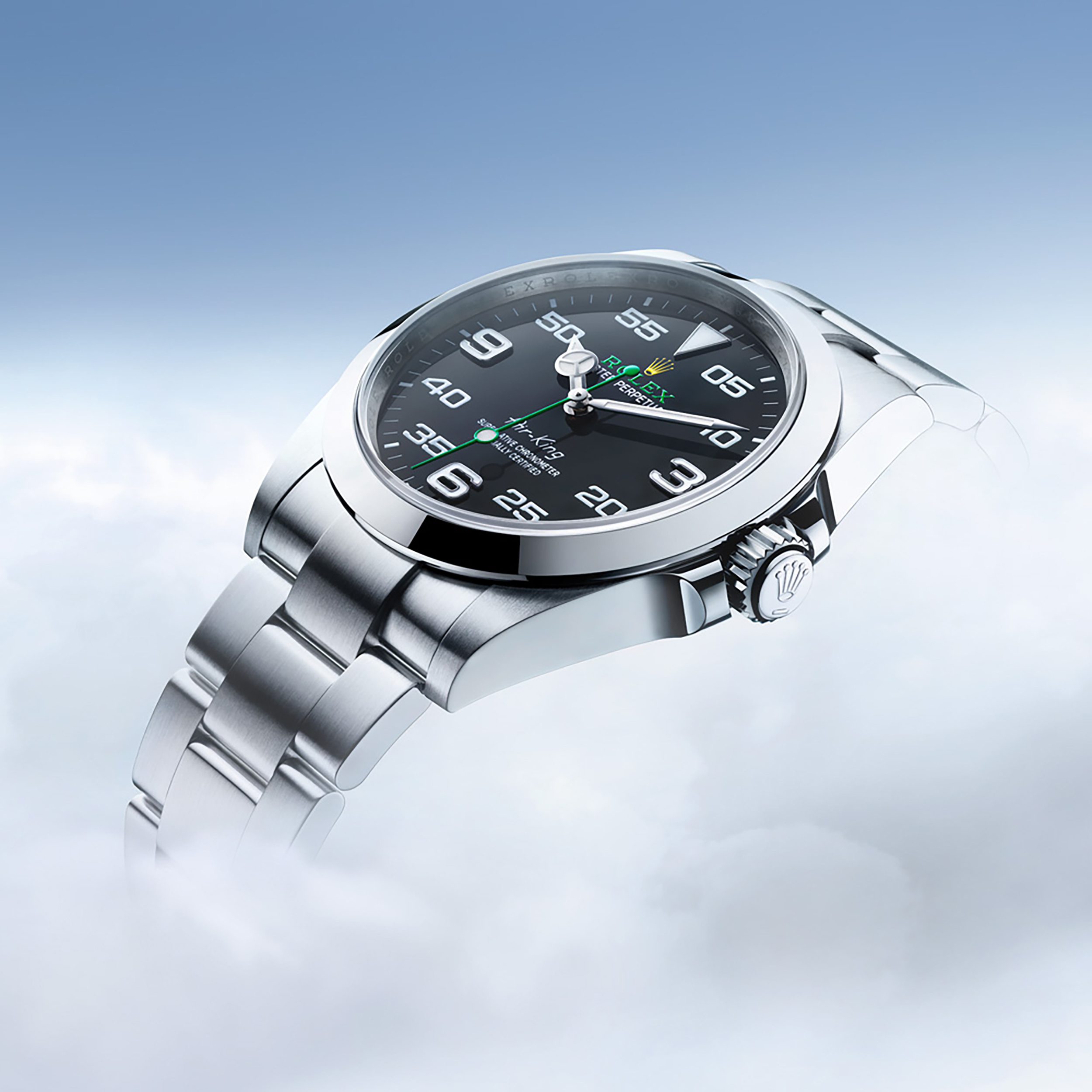 Are old Rolex watches worth anything?
If kept in good condition and if sold at the correct time, old or vintage Rolex watches can fetch vast amounts of money on the pre-owned market. It is one of the many intriguing and exciting factors about watch collecting that appeals to many enthusiasts – the buying and selling of popular models and working up the ladder to complete a comprehensive collection of the brand's most loved icons.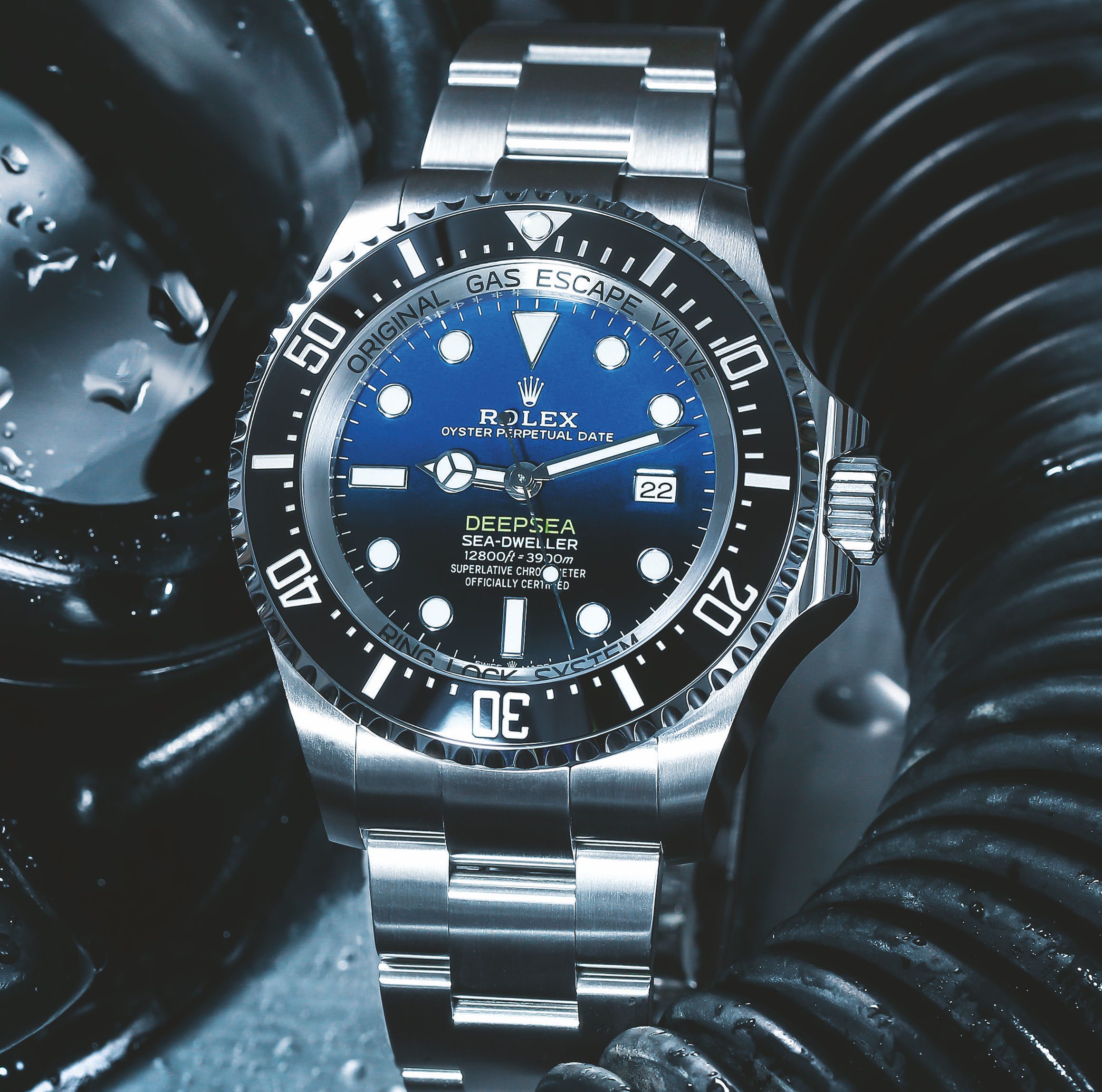 Are Rolex watches good investments?
The popularity of vintage Rolex watches can vastly exceed the price of a new Rolex watch due to high demand in the pre-owned market. The more desirable a Rolex watch, the harder it is to stumble across, thus the higher its price tag. Rolex watches are also built solidly and promise a lifetime on the wrist with an unfaltering, robust design crafted from superior materials that are reflected in the investment price of a Rolex watch, whether old or new.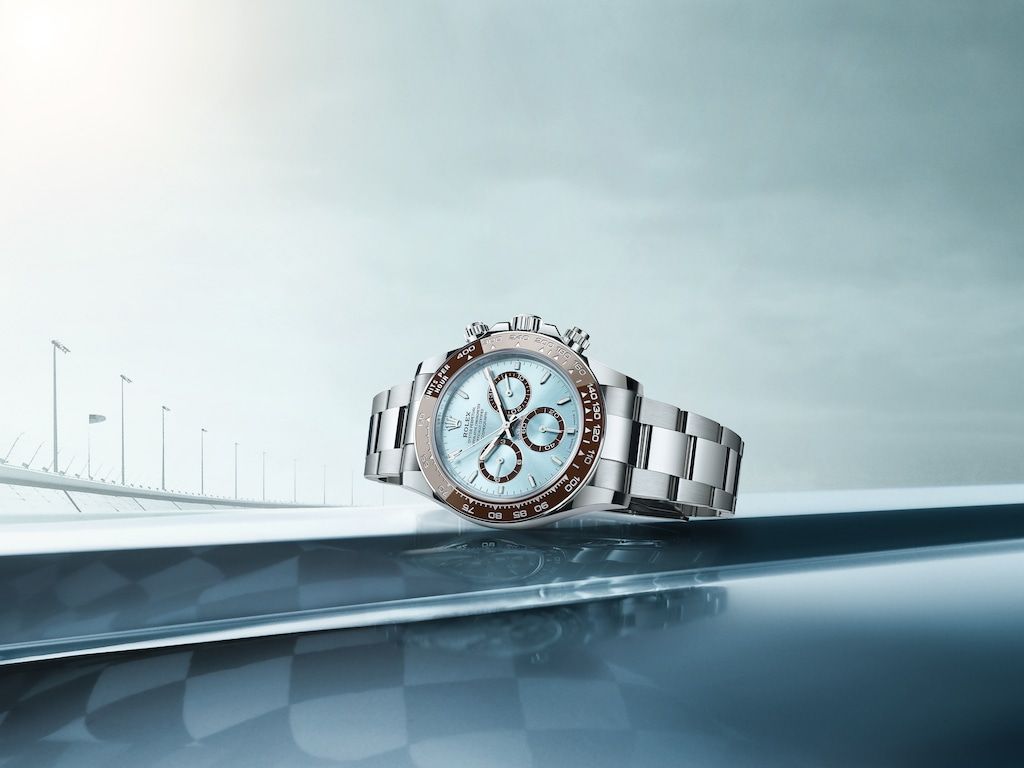 What are the most popular celebrity Rolex watches?
You can't argue that Rolex watches are the most well-known timepieces in the universe. But a watch endorsed on the wrist of a well-known music artist, Hollywood actor or politician, of course, further adds to the allure and charm of wearing and owning a Rolex watch. Female celebrities wearing Rolex watches include Jennifer Anniston who has a soft spot for the yellow gold Rolex Day-Date and Reese Witherspoon who chooses the classic Day-Date model. Male celebrities include American actor, Keanu Reeves who sports a Submariner on his wrist, Robert Downey Jr. who styles a personalised GMT-Master II very well, and Will Smith, spotted wearing the much-loved stainless steel Submariner.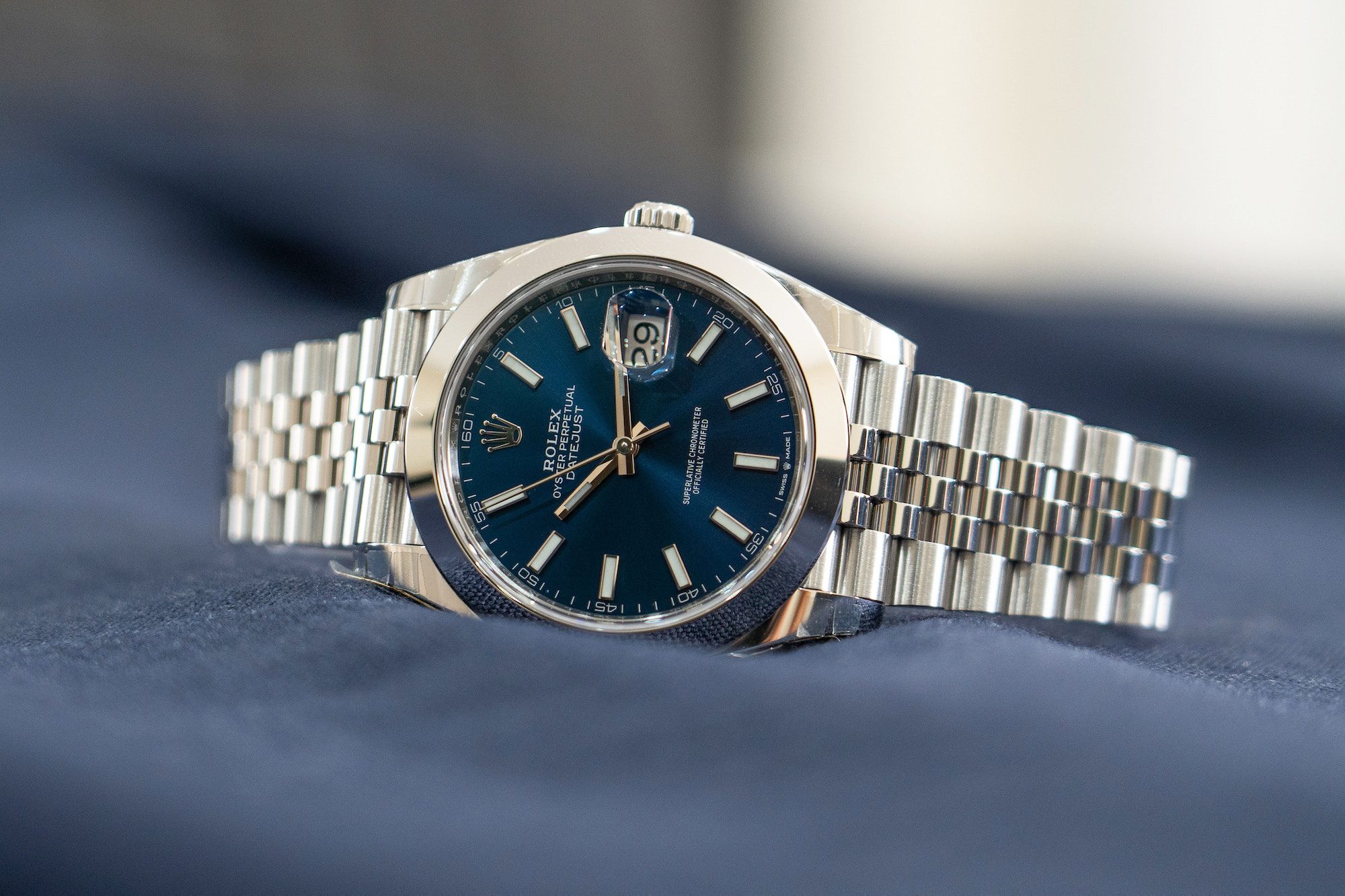 What collection will I find the most classic Rolex watches?
First released in 1963 and retaining all its key characteristics, the Rolex Daytona is a classic collectable.
What are the most collectable Rolex watches?
The Rolex Submariner ref. 16610, the Rolex Submariner Hulk, the GMT-Master II Pepsi watch, and the Submariner Kermit are all considered watches worth collecting, not only for their ability to climb in value but for their iconic style too.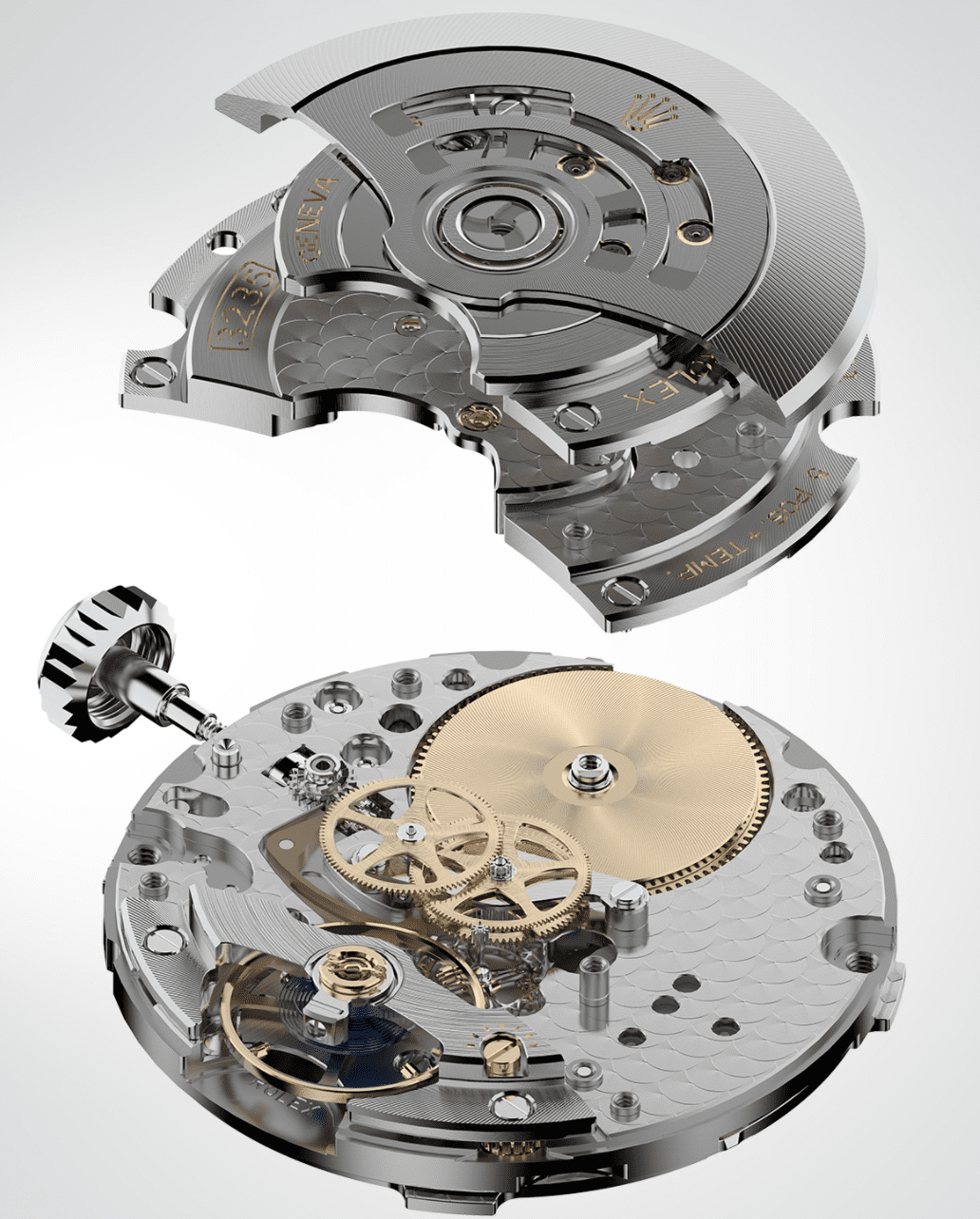 Do Rolex hold their value?
In short, the answer is yes. Rolex watches hold their value incredibly well and are one of the very few manufacturers in the industry that have held onto a steady and solid reputation in creating wristwatches that will appreciate in value as opposed to dropping in value. Many enthusiasts save up for years to be able to make a lifetime investment with a Rolex watch, whilst others keep them in the family to hand down the line of generations to come.
What is the difference between the Rolex Date and Datejust?
The size of the case is one of the main differences between the Rolex Date watch and the Rolex Datejust. The Rolex Date is generally a lot smaller than the Datejust, measuring a 34mm diameter, whilst the Datejust measures 36mm (aside from the mid-size watches, the 41mm version and, of course, the Lady Datejust).
Can you buy a Rolex online?
Of course! The internet is one of the best ways to shop for a Rolex watch, you just need to choose a trusted company. Do your research and checks with any online Rolex dealer before you jump straight in. Or you can save yourself thehassle and let Watches World do all the work for you. We endeavour to lead the way with our unique approach to selling and buying genuine luxury watches courtesy of our expert team that offers consultations in 14 different languages, creating a safe space for you to part with your beloved Rolex watch and add another beautiful timepiece to add to your collection.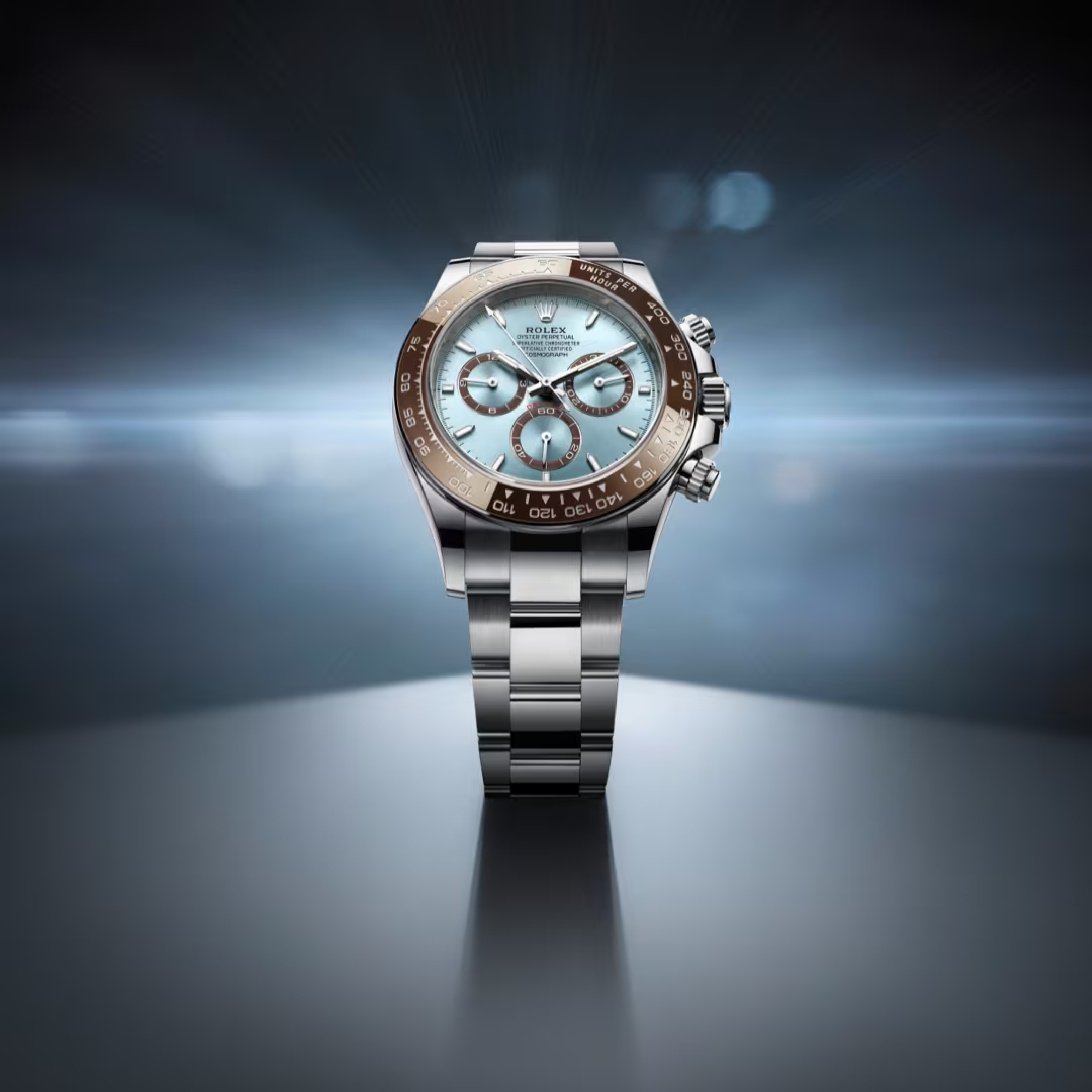 Best place to buy a Rolex online?
Watches World, obviously! We're a team of passionate watch experts with a difference. Breaking down language barriers and making our buying and selling process as simple as possible - our service is a cut above the rest. Watch enthusiasts from all around the world come back to Watches World over and over again for a timely, trusted service that works. Condition, price and friendly service are the foundations to our business and have been since we first opened.
Where can I sell a Rolex watch?
If you love buying Rolex watches from us, you'll want to sell them with us too. Our platform puts your pre-owned Rolex watch on sale for the best possible price and the exchange is done safely and genuinely with our trusted team of watch.
Fact: Rolex watches are expensive but worth it!
Limited edition Rolex watches can be expensive but, surprisingly, a Rolex stainless steel watch like the Submariner reference 16610 can fetch much higher prices than platinum Rolex watches, diamond Rolex watches or even gold Rolex watches, due to their popularity and their iconic status.
The strength and resistance associated with a Rolex watch do not come cheap. When it comes to the price tag of a timepiece made by this world-renowned manufacturer, you get what you pay for. Rolex chooses a premium selection of materials for its timepieces. Its automatic movements are COSC-certified and the brand has its own material research and development department which uses time-honoured techniques that have truly stood the test of time. Wearing a watch brand that is so instantly recognisable on the wrist is a pricey affair, but a value proposition that you will never regret since each Rolex watch holds its value so well.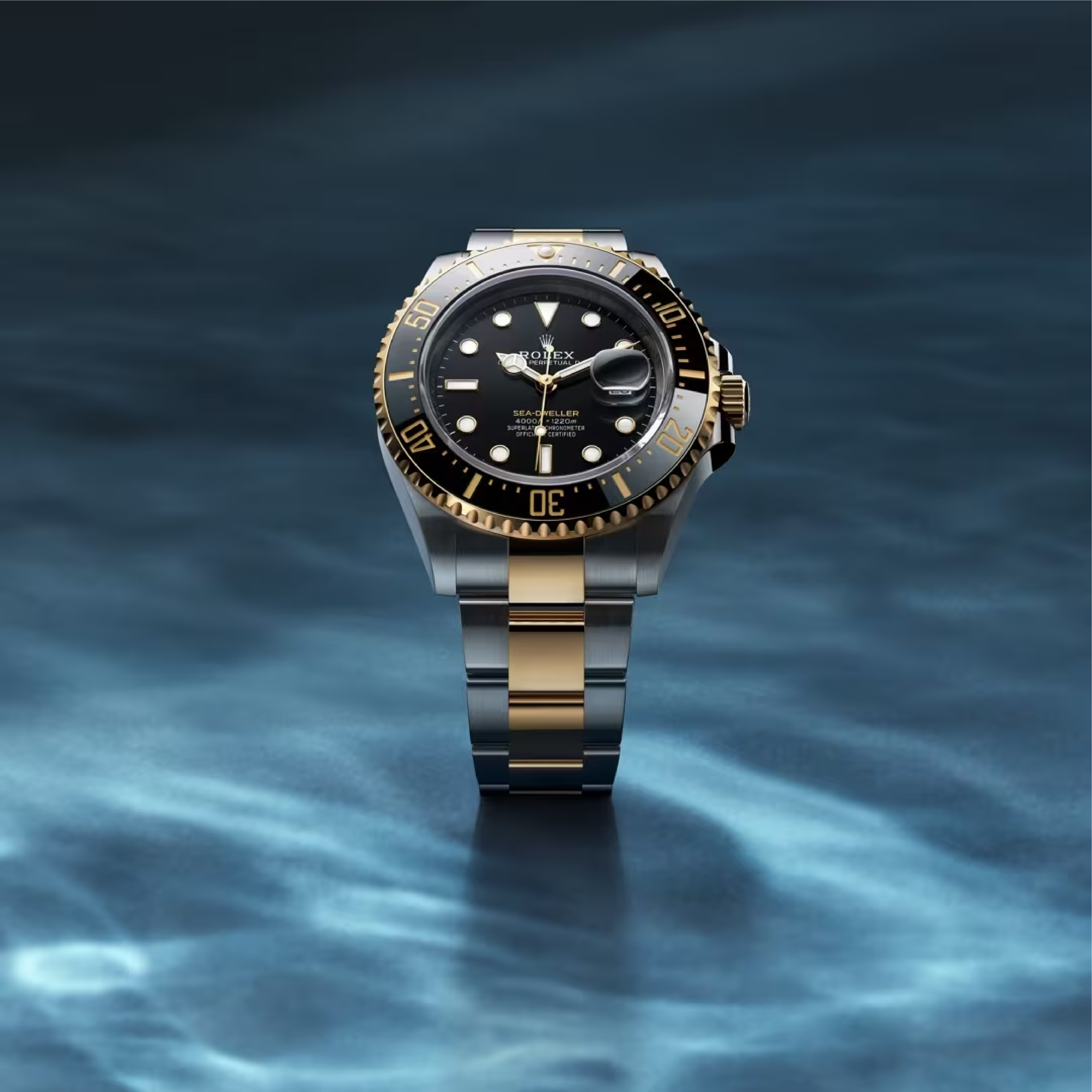 The main Rolex collections
The Oyster Perpetual
The Rolex Oyster Perpetual has a history of over 90 years and makes a great daily companion with its classic and highly investible style. Its no-frills design is also perfect as a unisex watch, offering chronometer certification, a suitable 100-meter water resistance, and a broad range of dial colours to choose from. What's more, some in-house movements used for the Oyster Perpetual collection are also fitted with what is known as a Paraflex shock absorber. If you're in the market and looking for some of the best couple Rolex watches for you and your partner, his and her matching timepieces are available in this range and make for a perfect pair to celebrate a special anniversary or similar milestone. Thanks to the classic appeal of the Oyster Perpetual, these timepieces make a great everyday Rolex watch and can be found in various sizes and materials to suit every taste.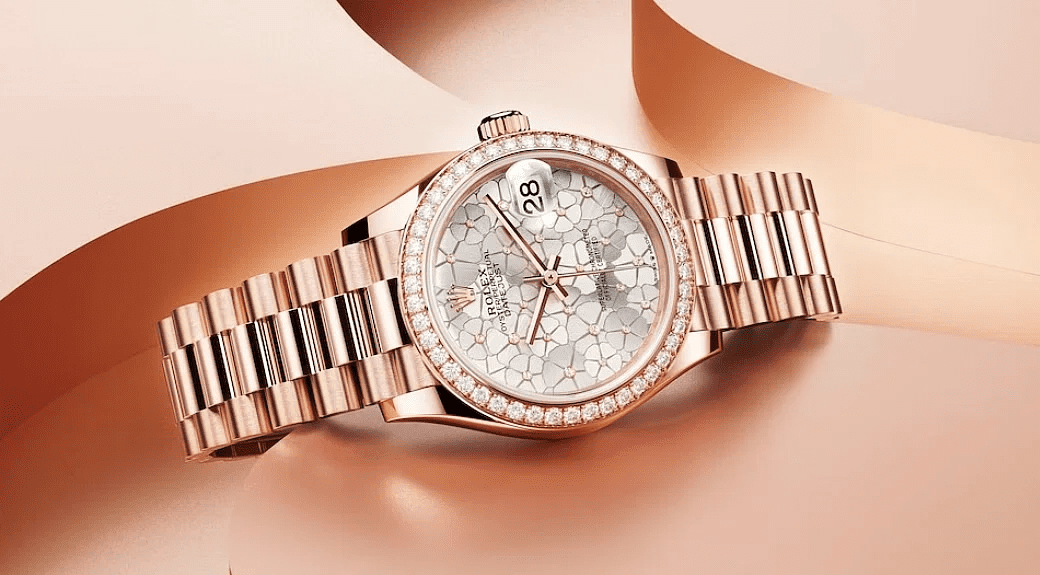 GMT-Master II
It can track three time zones at once. The Rolex GMT-Master II resonates with those enthusiasts who travel a lot for work or leisure. Its coloured bezel comes in different variations, including the most popular "Pepsi" iteration in blue and red, as well as the red and black "Coke" version. In 2022, Rolex revealed a left-handed GMT-Master II watch at the Watches & Wonders event, proving incredibly popular thanks to its clever left-sided crown and eye-catching green and black bezel.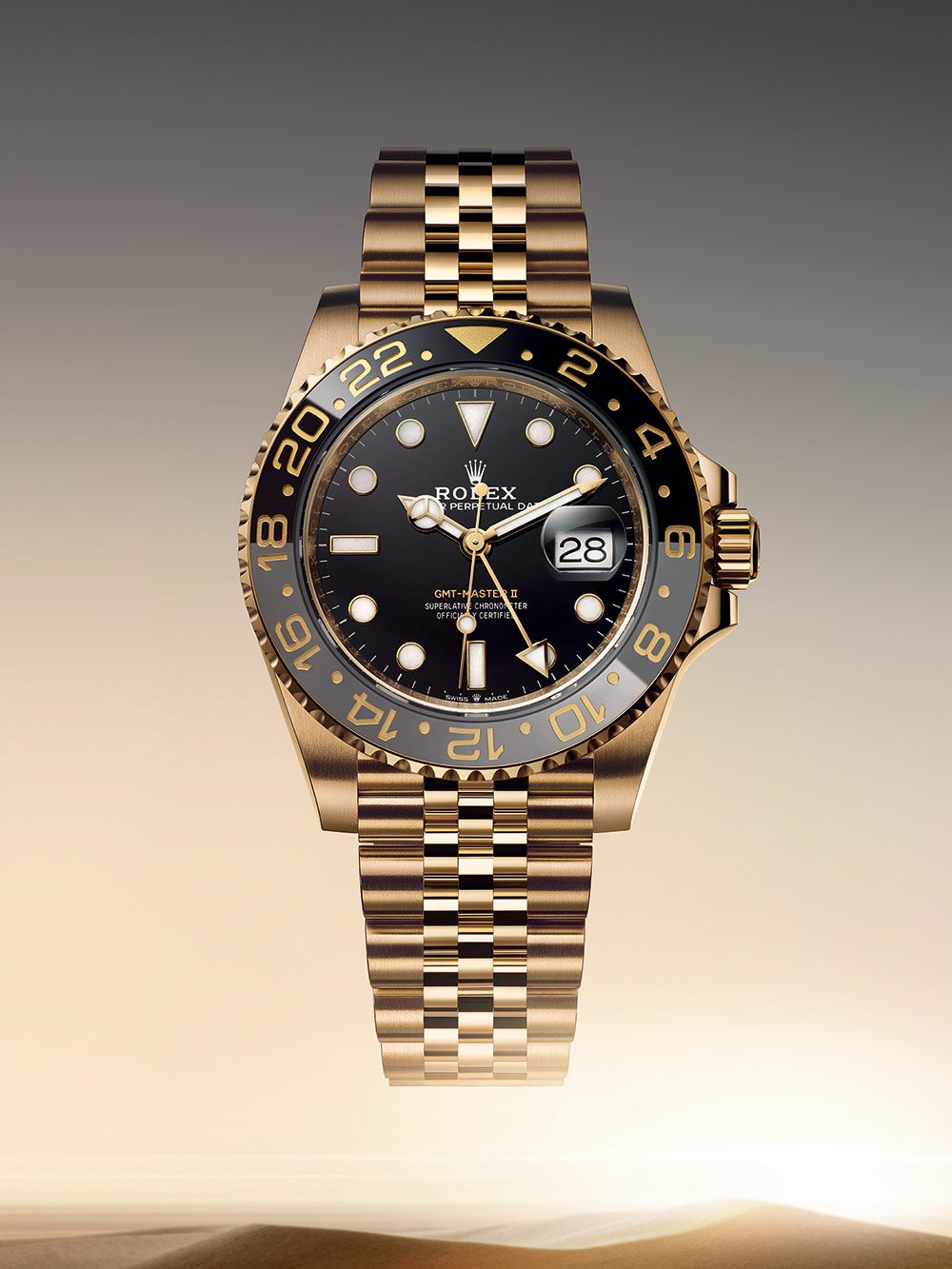 Yacht-Master
The Yacht-Master is a premier wristwatch for sailors and is offered in case sizes of 29mm – 42mm, appealing to both female and male skippers alike. The design is available in steel and platinum, gold and stainless steel or a full 18ct gold version. The two-toned versions named "Rolesor", "Rolesium" and "Oystersteel" models, as well as the full gold models, are fitted with a bidirectional rotating bezel and promise a water resistance of 100 meters. Additionally, the Yacht-Master II versions come equipped with a regatta chronograph – an indispensable tool for timing races, whilst their in-house movements provide a 70-hour power reserve once fully wound.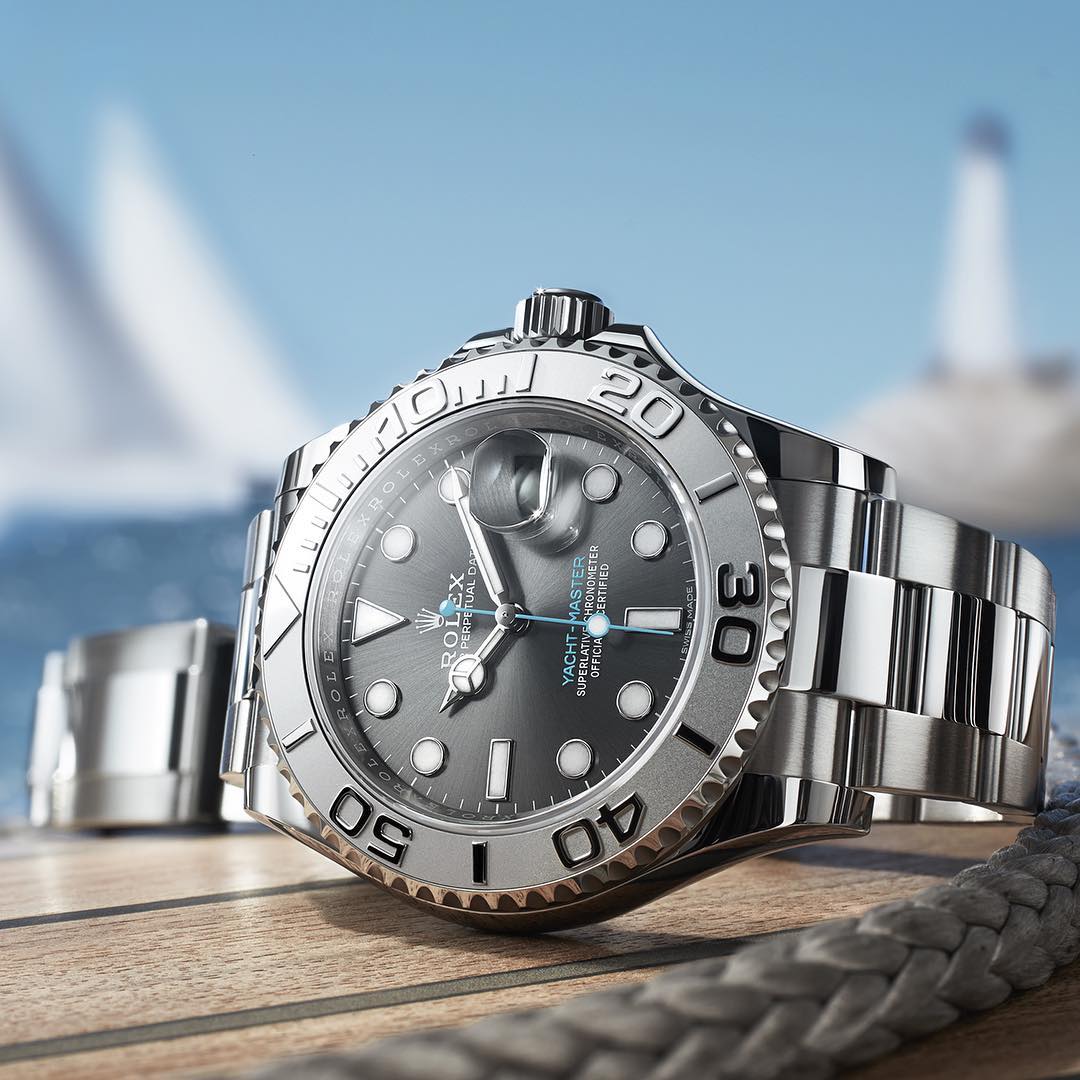 Sea-Dweller
With its superior aquatic capabilities, the Rolex Sea-Dweller can promise water-resistant ratings of up to almost 4,000 meters. First released as an evolution of the Submariner in the 1960s, the watch is perfect for saturation diving and comes in a robust stainless steel case or a two-tone steel and gold version. With a unidirectional rotating bezel, a helium escae valve and a cyclops lens above the date window for enhanced readability the Sea-Dweller won't let you down. To assist with legibility, the dials of the Rolex Sea-Dweller watches have luminous-coated hands and hour markers.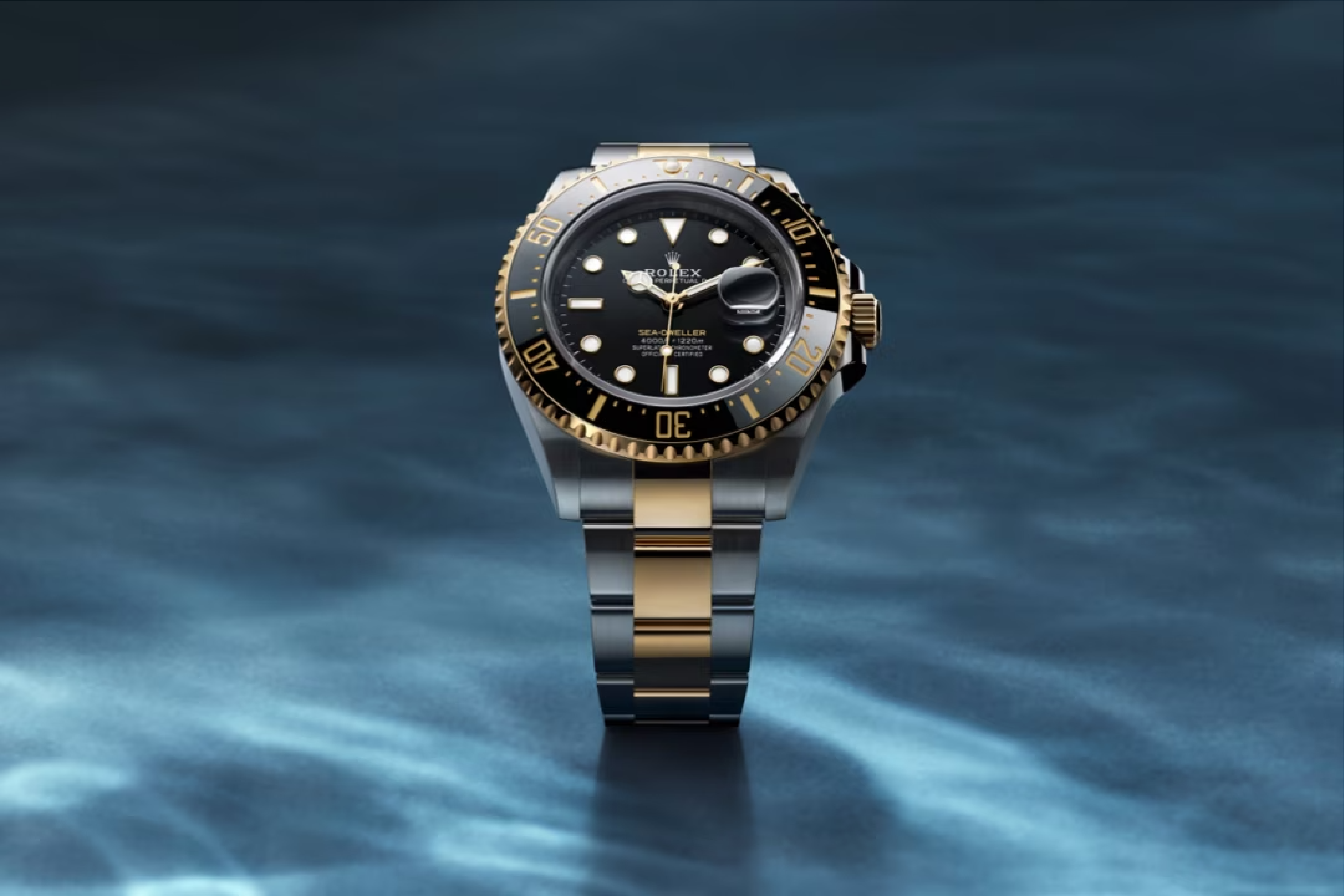 Air-King
The sporty, elegant and functional Rolex Air-King watch is classed as the brand's entry-level pilot's watch and features a simple dial layout with Arabic numerals and green accents. A Twinlock crown function and a sealed caseback help to uphold the model's 100-meter water resistance, whilst an EasyLink extension system enables you to wear the watch over the top of heavy pilot gear. The Air-King is finished on a classic three-piece Oyster link stainless steel bracelet with a satin-brushed finish that adds to the sporty undertones of this popular model.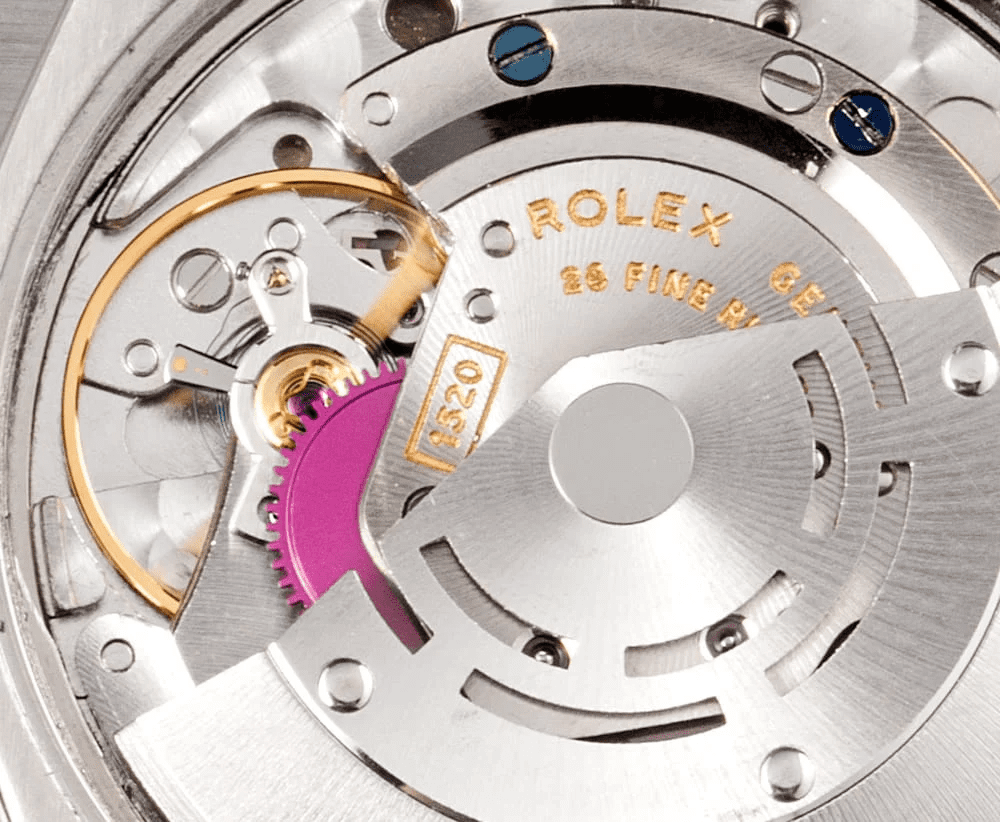 Explorer
Built for harsh outdoor conditions, extreme weather, and challenging climates, the Explorer watch by Rolex is one of the brand's most powerful and hardwearing tools. Its clean dial design with large Arabic numeral hour markers is easy to read at a glance and is protected underneath a crystal glass. You can find the Rolex Explorer on a stainless steel bracelet or a NATO-style strap, with sizes varying from 36mm to 39mm and a 100-meter water resistance.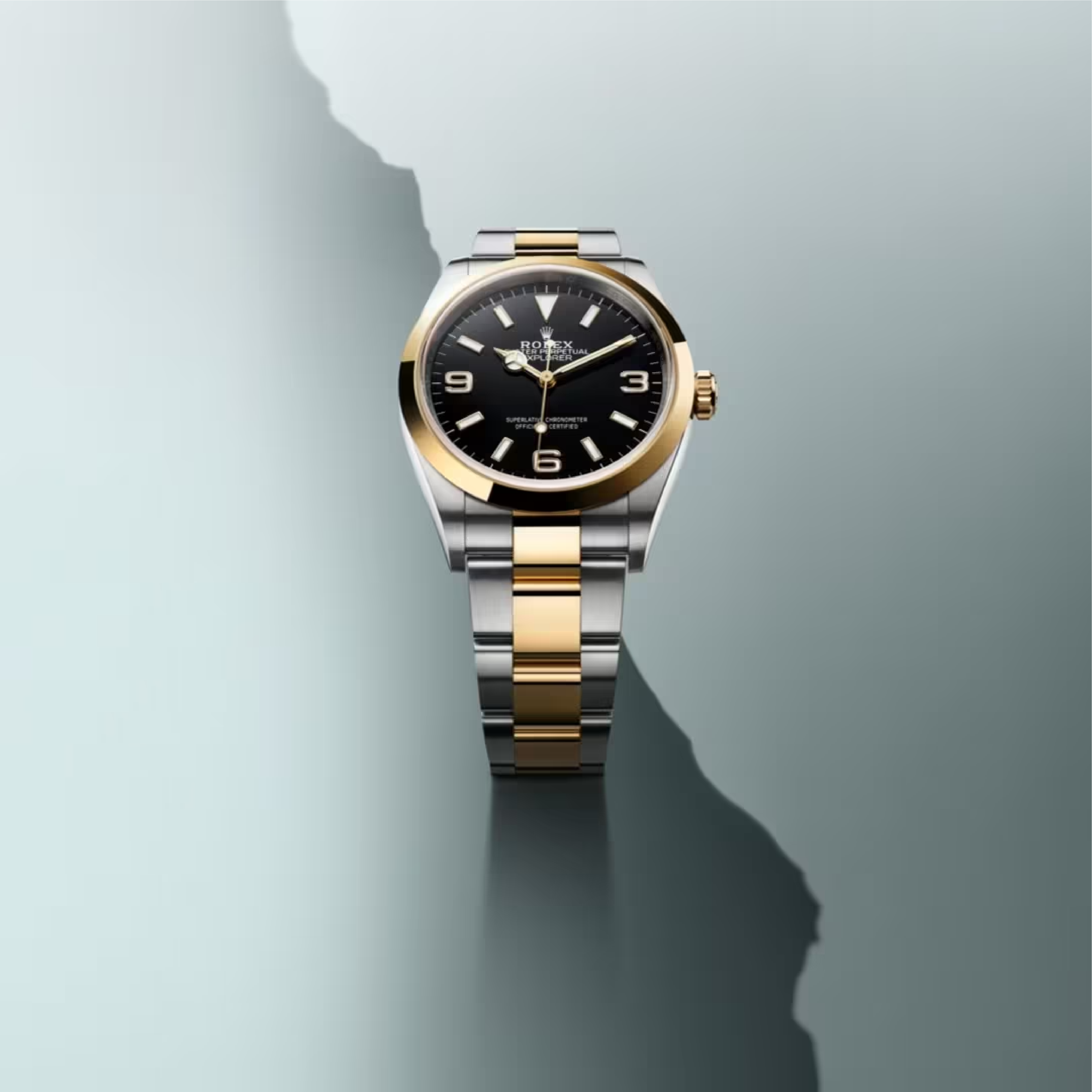 Sky-Dweller
The Rolex Sky-Dweller is one of the most complex timepieces and is equipped with functions like a second time zone for use whilst travelling and an annual calendar. Its design is protected by a staggering 14 patents whilst inside the case, a reliable in-house manufactured movement performs with Superlative Chronometer certification. The Calibre 9001, which powers these timepieces, is unique in its design, with a Ring Command bezel that allows you to control the functions of the watch without affecting the watch's accuracy.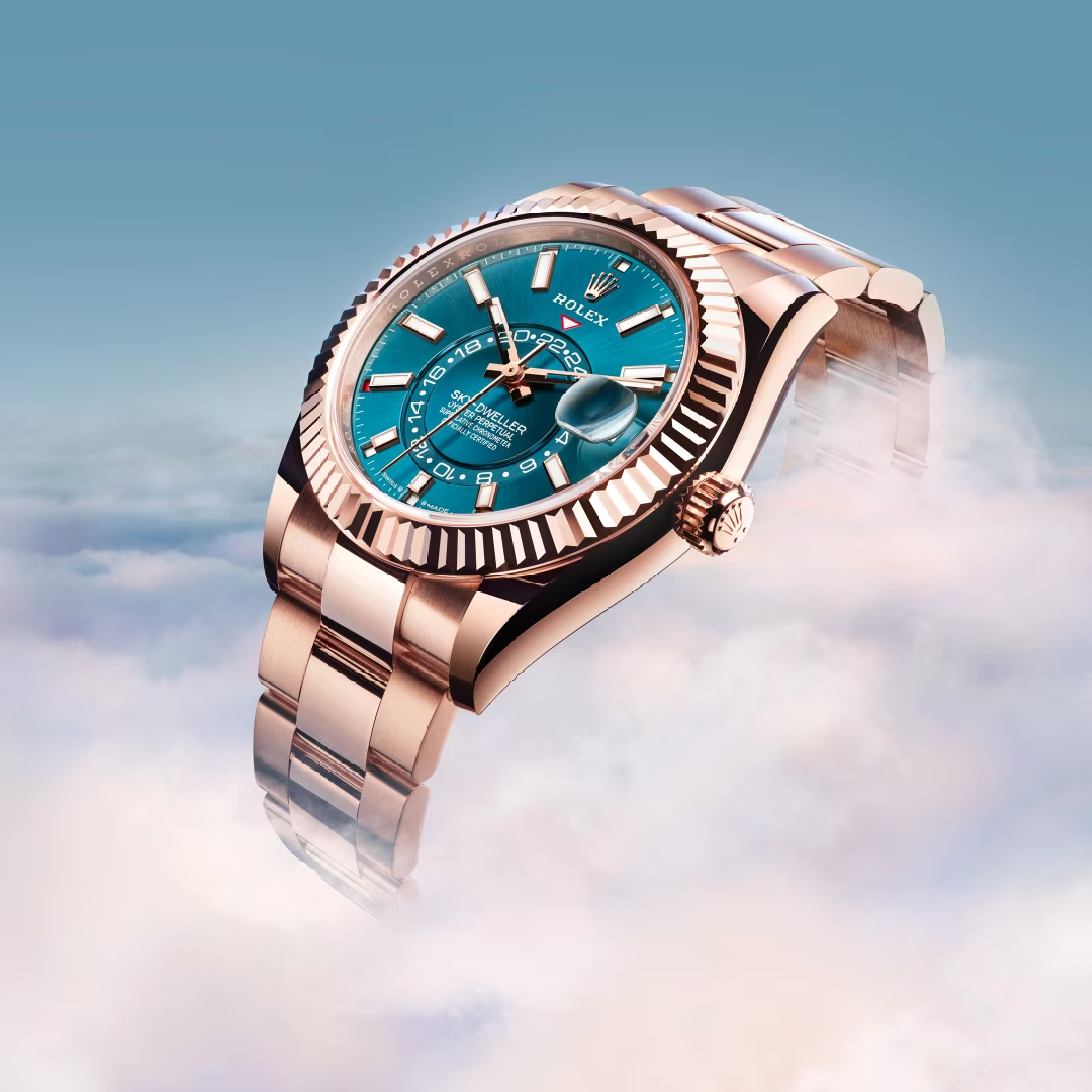 Day-Date
Also known as the "President Watch", this Rolex wristwatch is a fantastic investment that was first introduced in 1956. It was the first model to feature the date and an unabbreviated day aperture in full. The watch was released alongside the President bracelet, which combined the Oyster link bracelet with hemispherical-shaped links. Rolex Day-Date watches are characterised by their fluted bezels, their cyclops date and the day window at 12 o'clock. Epitomising luxury, these watches are available in 18ct rose gold, yellow gold, white gold and even the brighter and more lustrous platinum.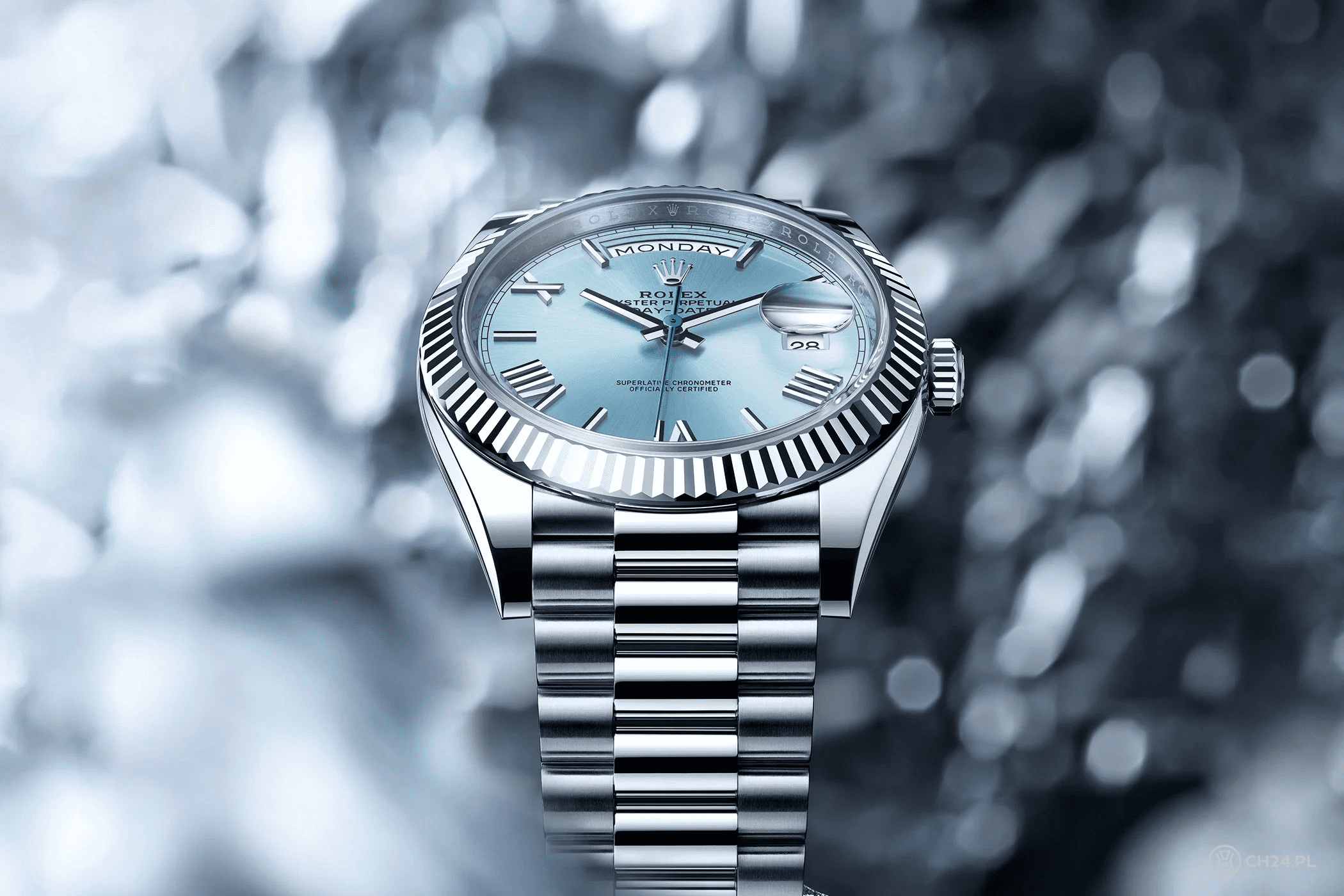 The Cosmograph Daytona
The Daytona is one of the most famous Rolex watches, particularly Paul Newman's Daytona reference 6239 with a white exotic dial, which sold for $17 million in 2017. As a result, the iconic chronograph is now classed as one of the most unique Rolex watches and remains the most expensive watch to have sold in the entire world.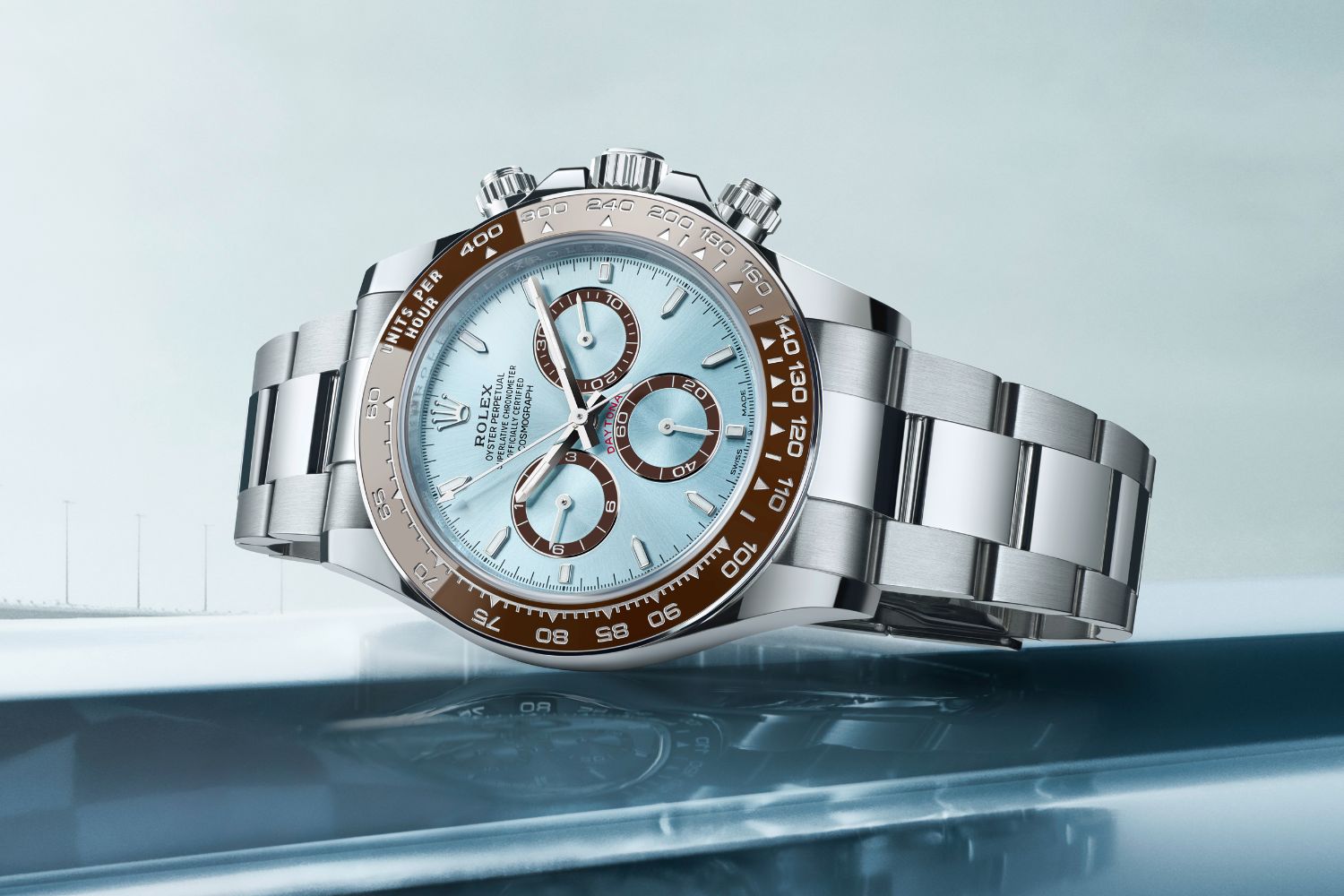 The Submariner
One of the most iconic watches, the Submariner is the ultimate diver's watch and was first released in 1953 with an impressive water-resistant case that was improved in the 1970s from 100 meters to 300 meters. The popularity of the Rolex Submariner has been unwavering since it was first born, thus the company has continued to add to the line, releasing different versions like the Hulk and Kermit, and improving the design of the watch with proprietary materials and patented features that allow it to stand out from other brands on the market. The world's most famous diving watch is still going strong with its reliable in-house movement and range of steel, gold or two-tone design options.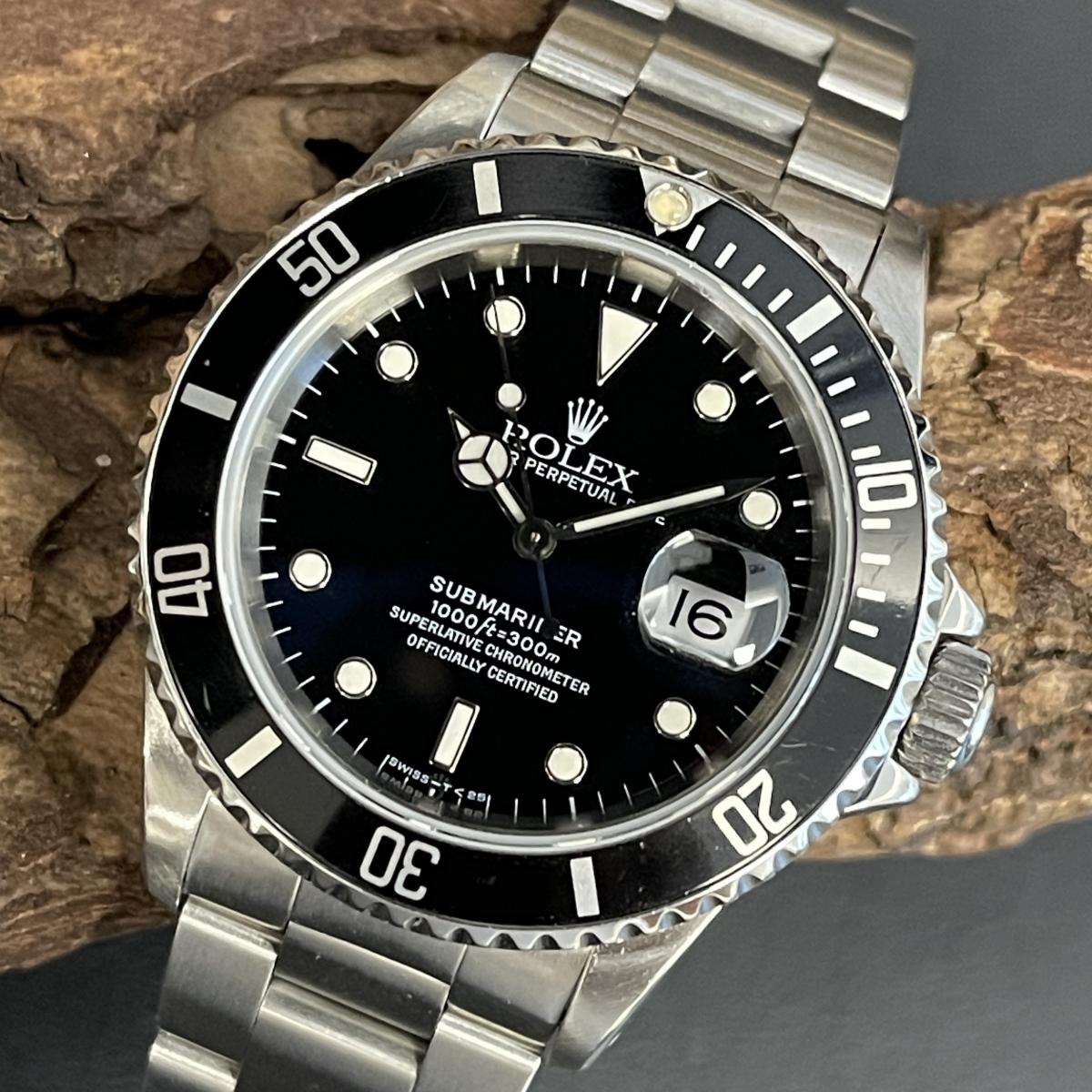 Datejust
The Rolex Datejust is perfect for every occasion with its practical cyclops date feature and dressy Jubilee bracelet. Despite this, it has a distinctly sporty flair and can be enjoyed in diamonds, with a case size offered between 31mm and 41mm. The Lady Datejust, however, is smaller in size for the female wrist, mearing a 28mm size. The dial of the Rolex Datejust can be varied, with indices, Roman numerals and diamond dot indexes all available in this design. Prices are steadily rising for the Datejust, making it a great investment piece, as are so many other popular models from the brand's endless catalogue.
Conclusion
Rolex watches are often considered the epitome of quality, prestige and luxury - many of which have served as a blueprint for entire watch collections, like the GMT-Master, which radicalised the classic GMT watch and its 24-hour time zone. Also, the Submariner, has become a quintessential dive watch that became the inspiration for many aspiring luxury watch brands. Above all, there are many advantages to buying and collecting Rolex watches. They not only promise a high investment potential, but they achieve a status of ultimate luxury on the wrist, leveraged by in-house designed movements and an array of materials and complications to choose from.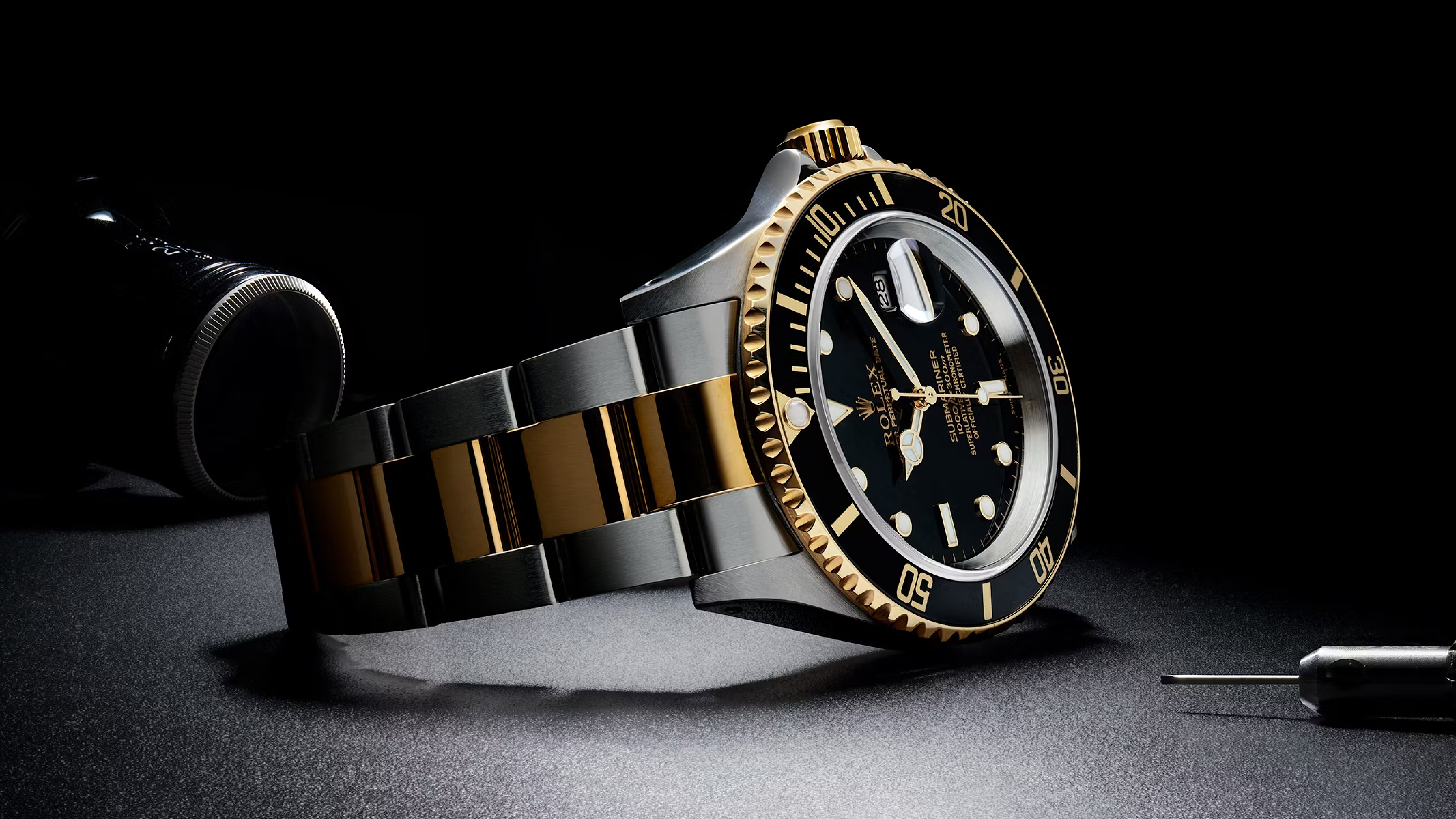 If you're looking to buy and sell Rolex watches, you're reading the right article. Here at Watches World, we take care of the process for you, safe in the knowledge that our standards in quality and transparency are adhered to thoroughly. Simply send your watch to us and we'll prepare it for our skilled team of watch experts, who will undergo an extensive and thorough observation process, valuing your watch and presenting it on our e-commerce platform for an exchange or sale with an interested buyer. Our online pre-owned luxury watch shop is also the best place to find pre-owned custom Rolex watches for sale.